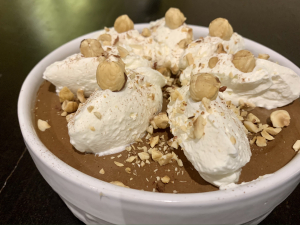 There are "a million" ways to make chocolate mousse. Depending on how I'm serving it, I'll choose one method or another. When I'm looking for a fast delicious dessert, however, this is the recipe I go to. I can hardly call it a recipe – it's so easy! I just have to remember 1 ounce (30g) of chocolate + 1 egg + 1 tablespoon of sugar per person…plus 1 extra white "for the pot"! I'm ready to make chocolate mousse where ever we go!
What makes a good chocolate mousse? For me, it first has a deeply chocolate taste but it can't be too rich. It is worth buying high quality chocolate since it's a key ingredient. I use chocolate with cocoa content between 64-72%, sometimes blending them together. Second, the texture has to be right. I prefer it in between "dense" and "creamy" but light at the same time (if that makes sense!).
One final thought: Think of chocolate mousse like that little black dress – you can dress it up or down, and it's always appropriate! When serving family style, I'm happy to simply pour all the mousse in a large bowl and top it with whipped cream and roasted hazelnuts. To make a more elaborate dessert, I'll serve it in individual glasses ("verrines") and add layers of cake or other crunchy elements. I also love its versatility when plated. I almost always add acidity in the form of fruit for great flavor and color – it never fails.
NOTE: Since eggs are one of two key ingredients, freshness is important. At Château Ladausse we are lucky to get farm-fresh eggs on a daily basis and I have no concern about using raw eggs in this recipe. Please use your own judgement to decide if raw eggs are OK or not.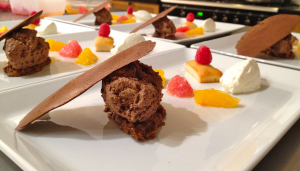 Ingredients – for 6 people
180g chocolate (6 ounces), 72% cacao content
110g egg yolks (from 6 large eggs)
300-320g egg whites (from 7 eggs)
80g sugar (1/3 cup + 1 tablespoon)*
Pinch of regular salt for egg whites
Optional: Pinch or two of fleur de sel or shot of Alcohol (Grand Marnier)
*Note: I've used up to 100g of sugar, so adjust quantity if you like it a tad sweeter, but if you add Cointreau or Grand Marnier, this will add sweetness..
Optional Garnish: Whipped cream, roasted nuts, fresh raspberries
Steps

Separate the yolks & whites
The whites can go directly in a stand mixer or other large bowl.

The yolks can go into a small bowl.
Separate one more egg, adding the whites to the stand mixer bowl.

Keep the extra yolk for another purpose (mayonnaise, for example).

Weigh sugar and set next to stand mixer bowl as you'll eventually add it there.
Melt Chocolate
Put a little water in the bottom of a medium size pot that will hold a large metal bowl.

The water level is about 1 inch.

The inside bowl should not touch the water.

If it does, change to a smaller pot.

Bring water to simmer over low heat.
Weigh chocolate into a large metal bowl;

place this on top of

the simmering pot.

Do not burn it, or heat too high (ie, above 60°C).
Once chocolate is melted (about 5 min.), remove bowl from the steaming pot.

It is ready to use between 40-45°C.

Chocolate can also be melted in microwave (but I don't have one!).
Whisk egg whites while chocolate is melting:
(obviously you can only do this simultaneously if you have a stand mixer!)
Add a pinch of salt to the egg whites.
Start whisking on low, for about 2 to 3 minutes.

After the whites are all frothy, increase speed to medium-high.

Add sugar.

Whisk until firm and tight, another few minutes.

If you hold the bowl upside down, the whites don't fall out!
Add yolks to chocolate
Add yolks to warm chocolate.

Mix well.

It will thicken.

Optionally add a shot of Grand Marnier or other alcohol of choice, or espresso.
Fold whisked whites into chocolate base:
Take about ¼ of the whites and add to the chocolate/yolk mixture (which should be room temperature and NEVER be warm or hot!).

Stir and mix quickly to loosen up the batter and to combine.

A whisk works well.

You may need to initially whisk hard to end up with a smooth texture at this stage.
Fold in another ¼ of the whites.

If still too thick, use whisk to blend in the additional whites.

Otherwise, if the batter is loose enough, fold in.

Fold in the remaining whites, being gentle since you want to keep the texture light.
Add a pinch or two of fleur de sel if you have not added alcohol, and blend.

It adds great flavor.
Pour into a serving bowl or other recipient(s).

Let set in the refrigerator at least 2-4 hours.

Serve with garnish of choice, if you like.