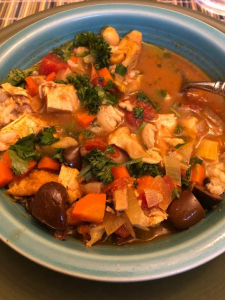 MOROCCAN CHICKEN STEW– (HARIRA) –
(Makes 10-12 cups)
Ingredients:
2 cups onion, diced
2 tablespoons olive oil
3 large carrots, peeled and cut into ½" cubes
2 tablespoons minced fresh ginger
1 tablespoon minced garlic
Ras El Hanout – (The name is given to a type of regional spice mixture used throughout the Moroccan Northern Algerian and Middle Eastern countries and consists of the following or is a regional mixture):
1 teaspoon each smoked paprika and ground coriander
1/2 teaspoon each ground cumin, cinnamon, and cardamom
1/4 teaspoon each ground turmeric, nutmeg, and red pepper flakes
1/2 cup dry white wine – (If for religious reasons, use 1/4 cup lemon juice + 1/4 cup water)
4-5 cups of chicken broth
3/4 lb. cooked chicken, chopped – (or half store-roasted chicken)
1 can chickpeas, drained and rinsed (15 oz.)
1 can diced tomatoes in juice (14.5 oz.)
1 can artichoke hearts, drained, quartered (13.75 oz.)
1 cup kalamata olives, pitted and quartered (I just dumped them in whole)
Salt & pepper to taste
Minced fresh cilantro and parsley – 1 cup each
Box of couscous
Zest of one lemon
Sauté onion and carrots in oil in a large pot over medium heat until onion is soft, 5 minutes. Add ginger, garlic, and all the spices, and cook for 1 minute.
Deglaze pot with wine, reduce until nearly evaporated, then stir in broth, chicken, chickpeas, tomatoes, artichokes, and olives. Bring soup to a boil, reduce heat to medium-low, and simmer 10 minutes or put the soup into a crock pot on low for several hours. Season soup with salt and pepper, if desired.
Prepare the couscous – I used one box and followed those directions. You can also zest a lemon into the mix, if desired.
When serving, add a mound of couscous into a bowl, then ladle in the soup and sprinkle with chopped cilantro and parsley. Enjoy!! [Chapter 4 – Searching for Families and Traditions at the French Table, Book Two – pp. 309-310.] Carole Bumpus, author