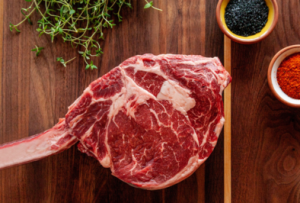 Of course a really great steak doesn't need anything more than a generous seasoning of salt and pepper. However, if you're looking for a change or wondering what to do with the container of miso paste you bought….look no further ! This is an intensely flavored blend that is just as good on chicken, fish or vegetables as it is on a steak. Any why stop there – add a dab anywhere you want to throw in a flavor curveball ! (Composed butter comes to mind…)
Ingredients: Makes about 1,5 ounce
5g (½ tablespoon) Brown sugar (cassonade in France)
1g ( ½ teaspoon) ground cumin
1g (½ teaspoon) ground coriander
2g (1/2 teaspoon) ground black Pepper (or white)
20g (2 tablespoons) Red miso paste
6g Ginger-garlic paste
6-12g (or 1-2 teaspoons) white wine (or saké)
3g ground gray sea salt (or other sea salt)
Blend all the dry spices.


Note :

If freshly grinding the cumin or coriander, heat them separately in a dry pan (no oil) over med-high heat initially.

Swirl seeds in the pan from time to time, to prevent burning.

When they are very fragrant (after a minute or so), remove from heat & place in a spice grinder.

Grind until smooth.

Add miso and form a paste, using a spoon to blend.

Add the Ginger-garlic paste and blend.

If you don't have this already prepared in your fridge, then simply peel and mix in a mini food processor ½ a head of high quality garlic (degermed) + 20g Ginger + 1 T coarse sea salt + 1 T olive oil (or quantity required to get a smooth consistency).

Keeps in fridge for weeks.
Add wine:

Add the quantity of wine necessary to form a paste that would be good for rubbing on a steak.
Taste & adjust seasoning to your liking.
Can be made days in advance. Store in fridge.