Martin Walker's Wine Notes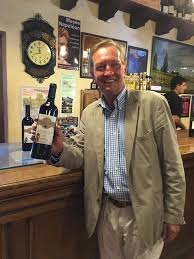 I'm delighted to welcome Martin Walker as our chief wine correspondent.
There is an enjoyably adventurous spirit on the rise in the Bergerac wine regions these days. You might even call it rebellious since winemakers are increasingly challenging the way the appellation controlée system limits the varieties of grapes that may be used for the wine to be labelled a Bergerac.
One of the happiest results of this spirit of exploration is that you can now drink some excellent local Chardonnays, although they are usually called IGP (for Indication Géographique Protégée). I have come across three that really please me, since they do not make the American mistake of trying to insert too much oak flavour, and they tend to enhance the taste by letting the wine rest on its lees for some months.
Chardonnay's home is Burgundy, where they have been making wine since Caligula was the Emperor in Rome. From Croatia the Romans brought in the Gouais blanc grape to make a cheap, peasant wine, while the richer landowners preferred to grow Pinot Blanc. Mother Nature then did her thing, and the Gouais blended with the Pinot (as we know from recent DNA research) and Chardonnay was born.
It was perfected by the 12th century Cistercian monks at Pontigny Abbey who launched the great legend of Chablis. In the Cotes de Beaune we find the stunning family of Montrachets, where the good bottles start at 40 euros and the grands crus go for hundreds.
But then came the Americans, who began growing Chardonnays in the 1950s and in the 1980s it became the fashionable drink, particularly for young women. It was the standby of wine bars, a wine that could be drunk and enjoyed on its own without food. A great deal of it was quaffed in the TV series Sex In The City. And then for some reason known best to the country whose President (Reagan, since you ask) assured us that tomato ketchup was a vegetable, they thought that the more a Chardonnay tasted of oak, the better. They would hang oak chips in the vats. Pretty soon the stuff started to taste like wet wood with added sulfites.
As always, the Americans eventually came to their senses and now some American vineyards even boast of offering 'un-oaked' Chardonnays, but not before it became the world's most popular white wine. It is wonderfully adaptable, producing distinctive wines in the heat of southern California, the cool hills of Burgundy or the coastal regions of New Zealand and Australia. It can be used to make still or sparkling wine and champagne. And now we make it here in the Perigord.
There are two Bergerac Chardonnays that knocked my socks off. One was the Cuvee Gaia from Chateau Barouillet, best known for its Monbazaillacs, but which also produces some terrific Pécharmants from five hectares near Lembras. Vincent Alexis is the eighth generation of winemakers from his family on the forty hectares around Pomport, where they also make Bergerac reds and whites. His Bergerac Sec also tastes a bit special from the touch of Chenin.
Of his Chardonnay, Vincent suggests: 'This wine reveals fresh notes of grapefruit, white pear and peach, and exotic fruits, the whole on a saffroned frame. The aftertaste remains tense and toned with a beautiful balance.'
I see what he's getting at, but for me the delight of this Chardonnay is that the fruitiness is balanced by the classic and generous buttery feel in the mouth. It is a wine that goes well with chicken and all seafood and pairs blissfully with Chinese food and sushi. I really enjoy it as an aperitif, particularly when it's not too hot and one can savour rather than slurp. At 12 euros, it is not cheap but you certainly get more than what you pay for.
The next local Chardonnay that I really enjoy is from the reliably excellent Chateau de la Jaubertie near Colombier, where Hugh Ryman is one of the pioneers who helped transform the Bergerac from a ho-hum appellation into the dynamic centre of quality that we enjoy today. His Chardonnay de Jaubertie is kept on the lees for twelve months before being put into oak barrels for five months. It is a very serious wine that is well worth the price of 12.50 euros. It is fresh and fruity on the mouth, and then becomes so rich and buttery that it is almost chewy. In a blind tasting it can hold its own with Chardonnays from Burgundy that cost twice as much. I could drink it all day.
The third Chardonnay that I like is a house wine from Julien de Savgnac in Le Bugue. It is called Pierres Blanches, from grapes grown by the Jaubertie vineyard at Colombier. The wine is fermented at a very low temperature and kept in stainless steel for four months but spends no time in barrels. This tastes a little more brisk in the tongue, which is no bad thing, is rich in the mouth and has a lovely, long aftertaste. At 6.90 euros, it is a very good buy.
There was a moment when I thought that Chateau Feely, one of my favourite vineyards who also offer great wine tours and sources, was going to start making Chardonnay. They even bought some vines to start planting.
'But then we got cold feet,' Caro Feely tells me. 'With the speed that global warming is advancing, we decided this region would be too hot for good chardonnay in 10 years, when our new vines would be coming into full adult production.'
My favourite local Chardonnay story comes from my friends Max and Emma, of Duck and Truffle food and wine tours. Emma went off Chardonnay, as did many of us, so Max started offering her Meursault instead, and she loved it. Husbands will understand that he took his time before confessing that what was drinking was ... Chardonnay.
Ends
A podcast conversation with Martin Walker