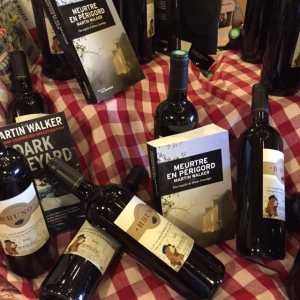 The winds from Siberia that brought the devastating frost to savage France's wine industry last month made headlines around the globe. From New York and London to Beijing and Tokyo, it was a reminder that we are not just one world but increasingly one palate with global tastes. The French government declared 'an agricultural disaster,' declaring that 80 percent of French vineyards had been hit and around a third of this year's production lost at a cost of two billion euros.
Although some local officials estimated that as many as half of the vine buds were affected to some degree, the Bergerac region seems to have got off comparatively lightly, but with dramatic variations. Usually frost hits the low-lying vines, and David Fourtout at Les Verdots lost a lot of the Merlot grapes in the valley. But this time it also hit the high ground of the Pécharmant and Rosette regions north of Bergerac and the high plateaus to the south around Colombier, where Chateau de la Jaberie lost around thirty percent.
Calling round my winemaking friends across the region, the terrific Clos de Breil vineyard east of Issigeac lost seventy percent of some varieties. Laurent de Bosredon at Chateau Belingard reckons he lost a third of his harvest. Francois-Xavier de St Exupéry at Chateau Tiregand lost from five to forty percent of his grapes, the Merlot being badly hit. The Mondazur vineyard in the Pécharmant lost a third of the crop.
Near Saussignac, Chateau Feely lost half of their Cabernet Sauvignon, a fifth of their Sauvignon Blanc, but only five percent of their Semillon and Merlot. Much of the Montravel was spared. The reds were less hit but some growers, like Domane de Perreau, lost as much as twenty percent of sauvignon blanc.
In the IGP area of the Perigord, outside the Bergerac appellation, Domaine de la Vitrolle said it had been a catastrophe. But on the plateau above St Cyprien, the Domaine de la Voie Blanche lost almost nothing - having lost their entire harvest in great frost of 2017.
As always, the weather was capricious, savaging some and sparing others. Back in the 1950s and 1960s, the local solution to frost was to burn old car and tractor tyres sometimes stuffed with manure from the dunghill. That is now banned but few can copy the grand vineyards of the Pomerol and Médoc and pay forty thousand euros to hire a helicopter to hover low above the vines and stir up the air currents. So many people use kettle fires, or chandelles, of fuel oil, to the dismay of many more green-minded neighbours.
'I thank our lucky stars that our bottling was delayed by a day, because when we should have been bottling, you could barely see Chateau Saussignac for the smoke and I dreaded the thought of that stench getting into our wines,' said Caro Feely. 'The great irony of the climate crisis is that it is a reinforcing negative – the frost means that farmers burn fuel and fly helicopters overhead to save their crops reinforcing the original problem.'
By contrast, exhausted and oxygen-deprived after two freezing nights in the smoke they generated to save their vines, the lads of Chateau Poulvère made a point of thanking those neighbours who had supported them against "the grinchy spirits who complained of too many fires, too much noise and too much smoke."
It is heartening that some of our winemakers are thinking ahead about how best to cope in the future. Hugh Ryman at Chateau de la Jaubertie has been thinking about the impact of climate change on the grapes he plants, reckoning that Merlot has little future in the region. Now he's thinking that frosts are becoming more likely.
'With mild winters, this is going to become an annual concern,' he tells me. 'We will have to review our pruning dates, review the wiring and position of the vine, replant hedges to block the cold winds and install windmills in certain areas.'
And that is just to cope with frosts. He went on: "After the frost , we will have the flowering issue, then the Mildiou risk -- followed by the usual summer drought.'
Wine-making can be a tough profession. But there may be a way out, at least for frost. David Fourtout at Les Verdots had seen it at work in California. It sounds crazy, but spraying the wines with water overnight covers the vine buds with ice and that protects them against the frost. He sprayed five of his fifty hectares and was so pleased by the results that various local worthies and politicos have been to see it in action.
One reason I feel so strongly about this is that the new vintage of my own Cuvée Bruno red wine is about to be launched, as always having been blended from grapes from various growers in the Bergerac, including Ch Briant, Ch Belingard, Clos de Breil, Domaine des Jandis and Ch de la Jaubertie. Julien Montfort is the wine-maker at Clos l'Envège and we plan to launch it in May along with my latest Bruno novel, 'The Coldest Case.'
Brexit has been tough on shipping from the UK so I have no idea when the new books will arrive, but we'll try to get the word out on my website Brunochiefofpolice.com. And those who want to join me at the grand opening of the 20th birthday of the Great Phoenix Book Fair in Campsegret, it has had to be postponed until May 29th. See you there!