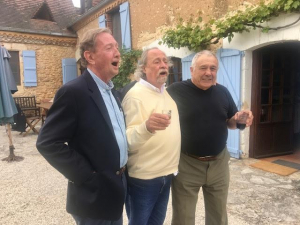 It is usually far more agreeable to be accompanied when visiting vineyards and tasting wine. Opinions can be compared and there is always somebody there to keep the conversation going when I'm scribbling down my notes. My regular companion is Raymond, a retired Captain of Gendarmes in his late seventies, as well as a neighbour with whom I often share a petit apéro of an evening.
Raymond was born, the youngest of ten children, on a farm near Lalinde and his father was a métayer, a sharecropper who had to give the landowner half of his entire crop. Theirs was a mixed farm, wtih wheat that went to the local baker in return for their daily supply of bread, hay and lucerne for the livestock, tobacco, a few cows and pigs and three hectares of wine.
Since he'd been attached to then-prime minister Jacques Chirac's security staff, Raymond is no stranger to fine wine, but when we visited Chateau Larchère, Raymond's face broke into a wide smile at his first sip.
'This is like our own family wine I grew up drinking,' he said, in a faraway voice that must have been the way Marcel Proust spoke when recalling the taste of those madeleines that brought back his childhood.
"A shudder ran through me and I stopped, intent upon the extraordinary thing that was happening to me," Proust famously wrote. It was much the same with Raymond, and I swear I could see traces of his boyhood in my friend's wrinkled face.
Thierry Baudry says proudly that he has been "making authentic wines in bio culture since 1989." And if you want to know what a good traditional Bergerac tasted like before the days of big stainless steel vats and professional oenologues advising vineyards how to produce what they call 'that international style,' ignore the rather run-down look of the place and try the wines.
His family has farmed near Pomport for more than a century, raising overstock and food crops and a bit of wine, just like Raymond's father. In 1950, Thierry's parents, Gervais and Dalia began planting more and more vine, eventually ten hectares, and Thierry then expanded to seventeen hectares.
'I grew up around the vines,' he recalled. 'My mum would leave me there as she and my dad worked the rows, and I played with the insects, the plants, even the nettles, smalls them, chewed them, watched them grow and change. I learned then that there is no such thing as a mauvaise herbe.' (This is the French term for a weed; literally it means 'bad grass.')
When Thierry joined his father in making wines, he persuaded him that they had to be bio - very rare in those days - and that they had to make wines that genuinely reflected their own terroir. In this, they were lucky, on good land in the Monbazillac appellation between Pomport and Gageac-et-Rouillac, not far from Chateau Belingard. Some of his land stretches west to qualify for the Saussignac appellation, so he makes both dessert wines, Monbazillac and Saussgnac.
'I'm less and less committed to the appellation system. The rules are too constricting and the wines are losing their local character,' he says. 'It has become a brand with the oenologues trying to introduce a standard taste. It has become hard to find a real, traditional Malbec wine in the Cahors these days, and I don't want that to happen in the Bergerac.'
Much of his wine is sold as Vin de France or Vin du Pays because he likes using the traditional grapes like Mérille (also known as Pérgord). He makes four special wines that he calls his Atypiques, which I found charming, different in an exciting way. There is a white whose grapes he leaves to macerate on the lees as if it were a red wine. It is tawny in colour, robust and chewy, and with a real character, at 13.50 euros.
His Atypique rosé at 8.50 has a delightful, fruit bouquet, but the taste is rich, not quite sweet but with a hint of cherry liqueur. His Atypique red at 11 euros has no added sulfites, and don't misunderstand when I say that at first it seems to have a touch of the farmyard in the taste. That is not a criticism, it is a quality that makes you really ponder the wine. It is rich in tannins, with a lovely, velvety aftertaste.
'I'm a bio wine-making peasant,' he says. 'This is more than a profession, it's a passion, a philosophy of life. We have to remain humble, not try to dominate the wines we make. The wine is like a wild animal and we should not try to domesticate it. We should not feed it so the vine loses its capacity to draw out the goodness in the soil and in the other plants and insects that share the soil. They help protect the wine and give the wines their individuality.'
He sells a 5-litre box of his standard red, Vin de Périgord, for 20 euros, which I have been enjoying over recent days, and Raymond says it is so like the wine his father made that it brings tears to his eyes. Raymond was delighted to learn that Thierry used horses to work his vines, since as a boy he'd worked his father's vines with a cow.
'The advantage of a cow is that the moment it feels an obstacle, it stops,' Raymond confided to Thierry. 'You can't do that with a tractor so when you do the cavaillonage with a tractor and it hits a vine stump it can wrench it out. A cow won't do that. Plus you get free manure.'
Thierry and his wife, Muriel, also make a sparkling rosé at 14 euros, a Saussignac liquoreux at 16.50 (for 50 cl bottle) and two versions of good value Monbazillac. His standard wine, for reds white and Monbazillac, is Chateau Larchère, planted with 3,000 vines to the hectare, at 13 euros for the 2018. His prestige wines are called Les Côteaux de Larchère, planted at 5,800 vines to the hectare, at 15 euros. But if you want something very special, his 1990 Monbazillac is 42 euros.