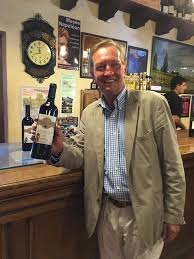 For most French parents, this is the time of La Rentrée when the kids go back to school (Covd permitting). For the rest of us it is the time of the Foire aux Vins, when the chais and warehouses are being cleared out to make room for the new wine that is now being picked from the vines and all the supermarkets and wine stores are offering bargains to clear out their stocks.
The good news is that this is a good time to buy because of the bad news which is that wine prices are starting to soar. Many of us had expected this when we saw that the frosts and bad weather this spring had devastated the vineyards of Burgundy.
I was chatting with Julien Montfort, who runs the Julien de Savignac chain of wine shops (and who makes my own Cuvée Bruno red wine) and he was reeling in shock at a letter from a big Burgundy wholesaler. It said that prices were going up 17 percent and worse was to follow as prices per tonneau were expected to rise by 40 to 80 percent. Chablis prices had risen by 15 percent.
So this is a good time to buy wine for your cellar and I have been going through the key catalogues that were available to help guide you to the best bargains. And as in most years, I am seriously annoyed that the big supermarket brands have yet to realise just how tremendously the Bergerac vineyards have raised their game.
The Lidl catalogue for its Foire des Vins, for example, has just one Bergerac wine in its 40 pages, and that is a cheapo Chateau des Oliviers, a cooperative brand. Still, at 2.40 euros a bottle, you could always use it for cooking. The Leclerc catalogue was not ready in time for my deadline so I went onto its website and found not a single Bergerac in the wines of the South-West and not even in the Bio section. Carrefour's Foire starts much later in September and their catalogue was not ready. Let's hope they do better. Aldi again could not provide a list of the wines they will offer but they are currently selling a very decent Cru Bourgeois from the Médoc, Chateau Bégadanet, for a mere 4.99.
We should expect better from our local chain, Intermarche. But their catalogue has only half-a-dozen Begeracs in its 84 pages that list some 600 wines. But the ones they do offer are terrific value, starting with the excellent Primo de Conti from the splendid Chateau Tour des Gendres, red and white at 6.75 a bottle. Then there is Bruno Bilancini of Chateau Tirecul la Graviere, whose glorious Monbazillacs are the only local wine to have scored a maximum 100 points from Robert Parker. Bruno's bio wine, a Monbazillac called Les Pins, is selling for 9.45. So I'll be buying 3 whites and 3 reds from Tour des Gendres and a bottle of Mobazillac and I will still have 5 centimes change from 50 euros.
Still, I expect to fork out a hundred euros at Lidl for:
Six bottles of Pouilly Fumé for 29.94.
Six bottles of Camille Meyer Riesling from Asace at 17.94.
Six bottles of the Fort du Mirail from Lalande-de-Pomerol at 35.34
One bottle of Domaine Bouhy from Haute-Cotes de Nuit for 8.99
And one bottle of Ch La Pirouette, a cru bourgeois from the Médoc at 7.99.
Total, 100.20 for twenty fine bottles.
Now we come to the real treasure, Julien de Savignac, which has branches in Le Bugue, Sarlat, Perigueux, Brantome, Angouleme, and five stores in and around Paris. My wife says that she wants her ashes scattered in Harrods' food hall in London and I want mine scattered at the main Savignac store in Le Bugue.
I have to admit that Julien and his stunningly beautiful wife, Caline, have been good friends of ours for many years. That being said, they easily win the gold medal for the best Foire des Vins from the Bergerac, with 62 well-chosen wines on special offer. And their sale prices are very simple. Buy a case of six bottles and you get 20 percent off. Buy three bottles and you get a discount of 10 per cent. Even for one bottle, you get a reduction of 8 percent .
So I will dig into savings and plan to buy several cases of six bottles of my favourites.
Six bottles of Mano a Mano white from Ch des Eyssards for 38 euros, after the discount.
Six bottles of Ch Le Payral Petite Fugue white, at 53 euros.
Six bottles of Ch Belingard Reserve red, which will cost 48.30
Six bottles of Clos de Breil, cuvée Odysée, at 52 euros.
So that is about 190 euros for 24 splendid bottles.
I was going to buy six bottles of the glorious Ch Mondazur Pécharment, a joint venture of two great winemakers from Ch de Tiregand and Ch de la Jaubertie, which would cost just under a hundred euros. But then I found that the wine on offer was another variant of Mondazur, called Les Argilles Bleus, which I don't yet know but plan to discover.
So I will buy a bottle to taste it before buying six bottles and will also buy a bottle each of the following new wines from Julin:
From Ch des Eyssards, their new bottle made from Malbec, called Le Vigne a Leonce.
From Ch le Payral, their Sans Sulphites red.
From Ch Tour des Gendres, their new Cantalouette.
From Ch Briand, their new white from the Petit Manseng grape.
From Ch Monestier La Tour, their new red, now that the transition to bio-dynamic wines has settled down.
And since it is a case of six, I will claim my 20 percent discount. So for less than 400 euros, I will have nearly sixty bottles which should keep me going until Christmas. Enjoy the wine fairs of France!