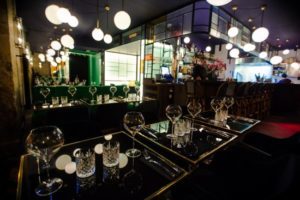 A big merci to Paige Donner who tipped me off to this Marais winner that could double as a dining room for the United Nations.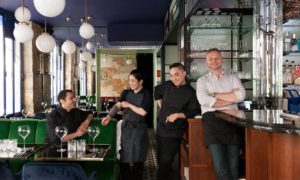 Classic French food with Asian overtones supplied by Davide Galloni, the Milanese-Thai chef, front of the house direction by Keenan, a Scottish-French, South African and management by the Russian-Bostonian Alex Kogan. And to add to the international flavour, yours truly, a blend of Brooklyn and Casablanca, accompanied by M from Berlin and neighbouring diners from Morocco, Germany, Brazil, and incredibly, France .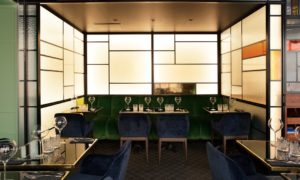 I arrived early and was greeted by Gabriel, a tall Roman, who spent two years at a high school in Amarillo, Texas. He reflexively proffered a prosecco to ease my wait for M. This burger joint has been transformed into a 30 seat dining room, including a private space for 6, with soft cushioned chairs, elegant stemware and tableware with a slight nod to Asia-modern but warm.
Now, let's talk food.
Chef Galloni started us with a tortilla chip of black rice filled with crabmeat and guacamole that popped our palates in anticipation of a tartare of langoustine, noir de Saint-Jacques, zesty lime, zabaione and pistachios for crunch. As in the amuse-bouche, Chef Galloni's creations are complex, satisfying and never precious.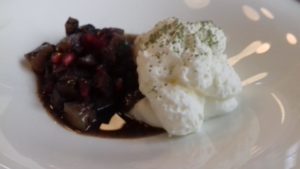 Next up, diced beef cheeks flavoured with coriander, sprinkled with pomegranate seeds accompanied by a fluffy chantilly of horseradish. Gabriel served us a 100% bio gamay from the Touraine, Dents Rouges, that knocked M out.
To prepare us for the fish course we were served monkfish ravioli with langoustine bisque and more of the delicious Dents Rouges.
And just before dessert, sea bass, razor clams, mussels and soba noodles-we oohed and awed, paused and waited for dessert.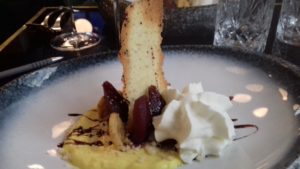 A pear marinated in red wine with turmeric and huile de coco was splendide!
Coffee and grappa almost concluded this meal...
We were the only remaining diners and Keenan joined us for conversation that he helped along by pouring a wee taste of Dalwhinnie.My visit to the Helena Rubinstein exhibit at the nearby Musée d'art et d'histoire du Jadaisme will have to wait for another day.
If you are in a hurry the daily formula is perfect.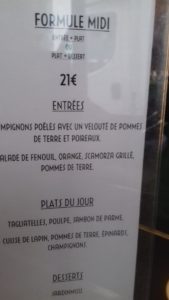 Les Foodies 6-8 Square Sainte-Croix de la Bretonnerie, 75004 Paris
Closed Monday
Reservations: 09 82 42 73 09