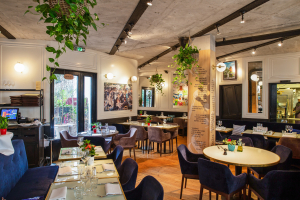 It was a glorious , sunny day and long-time Bay Area journalist, radio host and editor emeritus at WINE AFFICIONADO, Harvey STEIMAN and his wife Carol were in town. We had met Chez Martin Walker when I brought my group for our usual, festive day with Martin in Le Bugue. Over lots of wine and bonhomie we agreed to meet in Montmarte. Don't be deceived by the 'touristy' atmosphere, replete with tourists, the President of the République de Montmartre was at an adjacent table.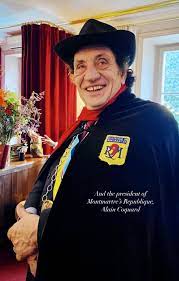 We started with a bottle of Croze-Hermitages, an excellent value from Chapoutier for our starters of pate de langue (Tongue de boeuf) and lapin.
As main courses the STEIMANS tucked into generous portions of Sea bass and cod with al dente vegetables. I opted for saute de veau provencal that was ideal for dipping baguette.We had selected from the menu du jour with several options at 8 euros for the starters and 15>50 for the main course.
So if you are in the hood...
83 rue Lepic