Greetings from Le Lavandou
Now that I have found the ideal spot for my annual summer vacation I can call myself a true 'Frenchman.' A mere 4okm west of Saint-Tropez it boasts the beautiful Saint Clair plage and an air of family and geniality that is relaxing and calm, unlike those other glitzy beachfront destinations.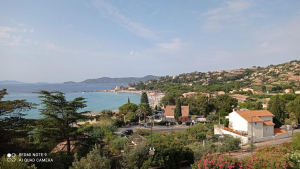 Our days begin with a filling breakfast in the dining room of the family run Hotel Belle-Vue. It is aptly named for the views are indeed beautiful. The owners Mesdames Odette and Jacqueline were both born in this building and are always available to satisfy your requests.
We arrived late on a Wednesday afternoon and had a light dinner of charcuterie and fromage at La Pinède, a beachfront resto and private beach, washed down with a bottle of Jasson blanc from a neighbouring vineyard. After schmoozing with a family from the Sologne we started in the direction of the overflowing Bar Les Flots-Bleus from which was emanating the extraordinary voice of Marcha accompanied by Phil and Phil on keyboards and tenor sax. They continued uninterrupted until after midnight with a repertoire that included STAND BY ME, I WILL ALWAYS LOVE YOU (outdoing Whitney Houston) and Leonard Cohen's haunting HALLELUJAH.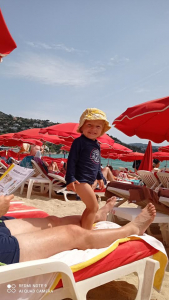 Even the street and sidewalk were filled happy people, and camaraderie reigned. Two-year old Louie danced to the beat and the next morning at the Saint Clair beach he and his parents were serendipitously placed next to us.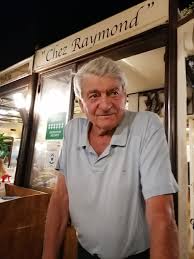 Did I say family? The VIALE family-Don Raymond, a gentle Don Corleone, runs LES TAMARIS that specialises in bouillabaisse, his sons Alec and Fred operate les Flots-bleus and La Pinède, a cousin runs Chez Regis with his American-born wife Catherine and the ice cream vendor patrolling the beach is another cousin. Perhaps we should change the sign from Saint Clair to VIALEVILLE?
Our first task in the morning was to secure a spot complete with chaise longues and parasols for the duration of our visit. Mission was accomplished and after booking our transats at Beach 5 starting the next day we found a spot at the Roc-Hotel where after a refreshing dip we found the adjacent transit occupied by Samira T and after discovering hat the three of us (Me, M and Samira) shared a hairdresser in COURBEVOIE, an immediate friendship was launched. We ordered salads nicoises from Chez Regis and rosé after which we resumed the bronzing process.
That night M and I enjoyed grilled whole St. Pierre fish with another local wine at Bistreau Ryon and then headed for our usual night-cap at Les Flots Bleus.
On our last visit we went to Porquerolles, one of the three islands that make up les Iles d'Hyères, the others being Ile du Levant and our destination today, Port-Cros. A 45 minute crossing and we arrived in this port/village that reminds me of a fishing town in Sicily. Bars and bistros line the port and we found the Sun Bistro for a cold beer to starla t, grilled loup (sea bass) and a bottle of a local white wine.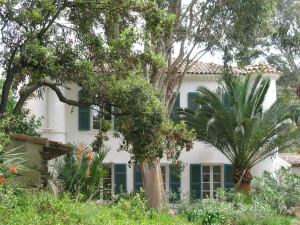 Prior to recrossing we took an abbreviated hike (if you grab an early ferry you can circumnavigate the island but allow time since no vehicles of any kind except for a jeep like vehicle that transports arriving guests to the elegant LE MANOIR for an overnite stay. Built in 1840 it suggests the kind of hotel found in colonial France at that time. Far enough from the port to afford privacy it has an excellent dining room and garden for cocktails.
Be sure to book at last one night at LES TAMARIS aka CHEZ RAYMOND where cauldrons of bouillabaisse are prepared nightly.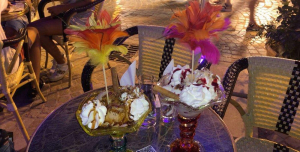 Please be aware that most restaurant have two sittings: 8pm and 9:30pm, so be sure to make reservations. On this evening we didn't, but fortunately we had made a friend of Franck, the owner of Chez Mimi, where ice cream sundaes with and without alcohol and served in beautiful glassware accompanied by a colourful mask that would be at home at the Carnival in Venice are offered. His solution a call to the sold out La Favouille and 15 minutes later we were tucking into a Couscous au fruits des mer.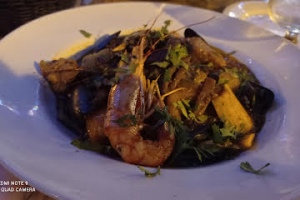 For our final evening we invited Samira (aka TAXI SAMIRA-our driver the Gare d'Hyères tomorrow) to join us for dinner at the restaurant of her choice: Au Vieux Sauvaire where had more local wine, grilled soup and daurade and house baked tarts of citron and pommes. A final stop at Les Flots and this wonderful vacation was coming to a close BUT we've has so much fun and made so many friends that we will back next year and every year.
My new friends and I are working on a special program for next summer that will include a bouillabaisse feast Chez Raymond, a trip to Port-Cros and a show at Les Flots Bleu where I will sing and if all works out, Marcha will perform and Phil Saxo will come over from Geneva for a blast of an evening.
It's far too early to book but I will need to alert SNCF that we will need special cars to accommodate the masses of America who will be joining me for the inaugural invasion.
See you in Le Lavandou in 2022