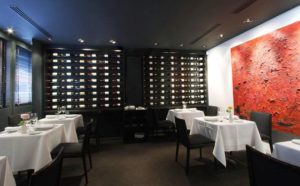 Just a few steps off the Champs-Elysées near l'Etoile, Le Chiberta has been here since the 1930s and in the hands of 3 star chef Guy Savoy since 2004.
Among the celebrated chefs who have worked here is Philippe Da Silva who now owns and operates the 4 star hotel and Michelin-starred restaurant LES GORGES DE PENNAFORT, near Draguignan. The restaurant is now in the capable hands of young Irwin DURAND who prepped for this position at M.Savoy's 3 star gem at La Musée de la Monnaie.
Like all meals in restaurants of this class we began with a coupe de champagne accompanied by an amuse-bouche, a fleur de truite, crème acidulée (smoked trout with tart cream sauce.)
With M doing double duty as my companion and sommelière we were able to sample a broad assortment from Chef Durand's kitchen. For starters M was served a velouté of petit pois with sorbet. She liked it so much that she forget to feed me a spoonful.
and I was presented a bed of haricot verts in a cardoman bisque topped by langoustine.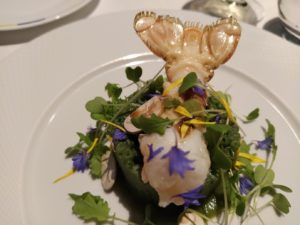 To accompany this course Steven chose a vin blanc, MOULIN DE GASSAC (Faune) 2018 IGP Hérault. M's tasting notes will appear at the end of the review.
Next up Homard Bleu Roti (Roasted lobster in its juice with star anise and a Swiss chard ravioli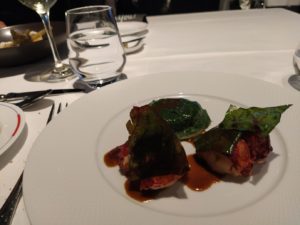 Poached turbot with glazed potatoes and fennel in bouillabaisse juice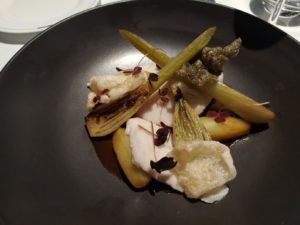 M oohed and aahed over the vin blanc, BEAUNE 1er Cru (Les Aigrots) 2016 Sébastien Magnien.
And now for something to accompany the 2006 Chateau Grand Corbin Saint-Emilion Grand Cru–Quail thighs stuffed with foie gras.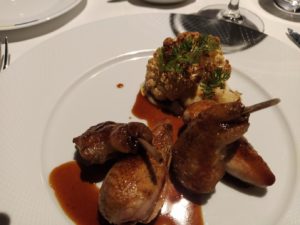 and filet de Boeuf Charolais with grated dried tuna and smoked eggplant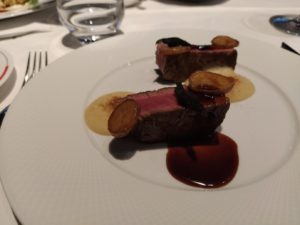 Our cheese course was an emulsion of Comté with walnuts for texture-unusual and delicious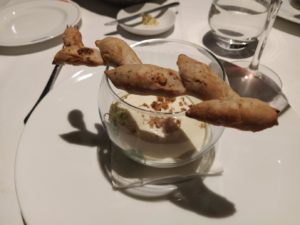 To prepare our palettes for dessert we were served peaches with Verveine.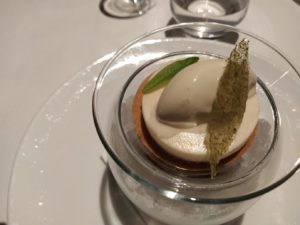 We shared mini Paris-Brests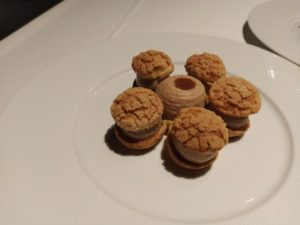 and blackberries
served with a 2018 Muscat (Saint-Georges) from Domaine Boehler in Alsace.
The hour was late so we skipped coffee ,but, of course, there was no way we could miss the 38 year old Armagnac from Domaine de Jouanda.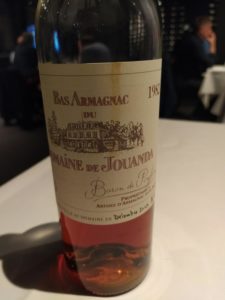 Le Chibert certainly deserves its Michelin star-a warm welcome, attentive, charming service, generous portions of excellent cuisine and a wine list filled with pleasant surprises.
M's Wine Notes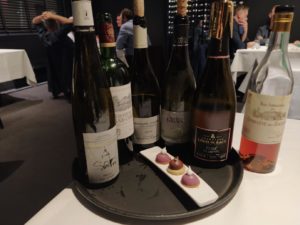 Apéritif: Champagne rosé Louis de Sacy: acidulé , très bon
Vins:1. vin blanc Moulin de Gassac: très original par cépage Viognier et
Chardonnay, léger et bonne acidité, très bon
2. vin blanc Beaune (les Aigrots)1er cru 2016 : nez très fleuri, grande
ampleur en bouche et fin de bouche, excellent
3. Bordeaux rouge Château Grand Corbin 2006 Saint Emilion Grand Cru: nez
fruits rouges, grande ampleur en bouche et fin de bouche, excellent
4. Muscat Saint-Georges 2018 domaine Boehler: nez fleuri, bouche ample
raisin et fin de bouche, très bon
5. Armagnac grand âge, délicieux
Reservations: 01 53 53 42 00