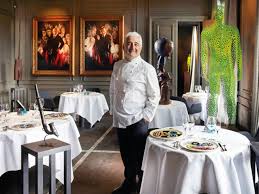 The monumental three star chef Guy Savoy has installed a magnificent homage to gastronomy at a Parisian monument, the Musée de la Monnaie. It combines the aesthetics that M.Savoy views as essential to 3 star gastronomy: elegant tableware by artist Virginia Mo, large works of art, including sculpture, in a space reflecting the grandeur appropriate the the cuisine, in this case with views of the Seine from five of the six private dining rooms .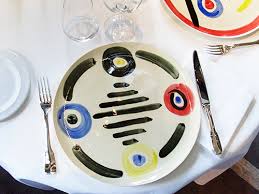 While proud of the French culinary culture that continues to influence great chefs around the world he is not an ingredient Chauvinist and uses the freshest of ingredients from all sources irrespective of their country of origin. Forty persons work the kitchen to prepare meals for 50+ guests at lunch and a full house of 75 at dinner but don't be intimidated and fearful of requesting a table at the last minute-M Savoy is a self-made man and may very possibly find a spot for a couple, if humanly possible.
I was one of a select group of 12 members of the Association de la Presse Etrangere invited to attend this annual gathering organized by La Liste. We began with a dry blancs de blancs bottled by Maison Legras especially for M. Savoy while waiters circulated with nibbles.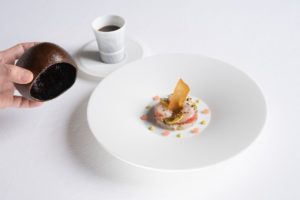 As we found our seats we were treated to Lobster, avocado and grapefruit seasoned with Timut pepper, beneath a grapefruit 'shell' washed down with the first in our symphony of wines, a 2016 chardonnay Pernand-Vergelesses from Jean-Baptiste Boudier.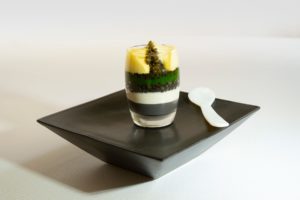 Our next course was a rainbow of caviar with smoked sabayon. Our wine glasses were refilled with the easy drinking Pernand-Vergelesses.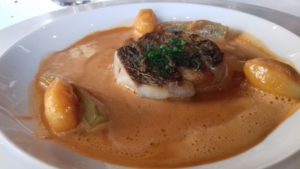 Our banquet continued with a medallion of daurade swimming in a bouillabaisse bath flanked by baby potatoes.
Next up was chef Savoy's signature dish, Artichoke soup with black truffle; melt in your mouth layered truffled mushroom brioche. We devoured the brioche until all liquid disappeared from our plates. We now switched wines and our sommelier selected a 2008 Chateau Bellegrave Pomerol.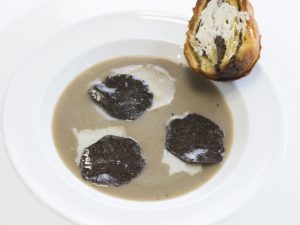 We soldiered on with confit d'endive, fois gras and more truffles aided by the excellent Pomerol.
To ease our way into desserts we were weaned from our Pomerol and served a Blanc de Noirs from Champagne Hugues Godmé to accompany slices of Saint-Nectaire.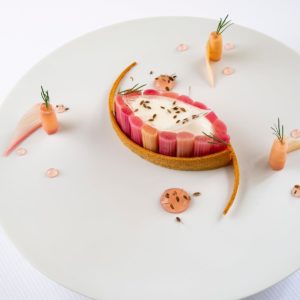 And to cap this 3 hour feast a 2016 Muscat du cap Corse from Domaine Giudicelli was poured for the milk-flavoured rhubarb with dill and the chariot of ice cream, sorbets biscuits that capped our experience.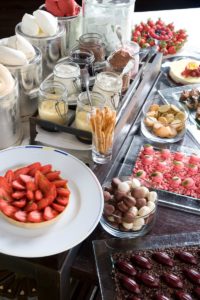 Perhaps aware of his own humble beginnings Chef Savoy offers a selection of formules from 150 euros per person to 450 euros so it won't be necessary to rob a bank to savour this unique experience. Visit the site for complete details.