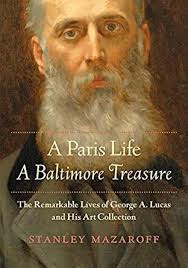 When Terrance first handed me the book I will review for you now, A Paris Life A Baltimore Treasure, I thought it was because a mutual friend of ours lives in Baltimore and has an apartment in Paris. But as it turns out, this book is not about Peter although he did have some interesting observations to share (as he generally does). Once I learned what the book was about, I hesitated. Terrance's policy is : write a review to recommend a book, otherwise don't bother. A good policy. The fact that I am writing this review is proof indeed that the author, Stanley Mazaroff has done a very good job of convincing a reluctant reader about the merits of his subjects. Subjects ? See below. Reluctant ? Read on.
Subjects? Yes indeed, this book does have several subjects. Firstly there is George A Lucas, the Baltimorean who left America for Paris in 1857, never to return.A modest annual allowance from his father permitted Lucas to go to Paris, but it wasn't enough for the lifestyle he wanted. This he achieved by assisting wealthy Americans, mostly Baltimoreans, to acquire contemporary French art. And that brings us to the second subject of this book, the art collection he amassed for himself as he earned his fee for selecting art for others. A third subject of this book is what has happened to Lucas's collection since his death, now 111 years ago. Turns out, this book is as much cultural history as art history, equal measure legal history and history of taste.
Reluctance? What is there not to love about a book that has all this ? Well, to be completely honest, I hate stuff, the more stuff there is, the more I hate it. For me it is obvious - buy one good piece from (the late, much lamented) Barneys not five outfits from H & M or Zara. Fast fashion is as awful, according to me, as fast food. So is there such a thing as fast art, I hear you asking ? Well, there is surely such a thing as too much stuff. I was in Philadelphia a couple years ago and after a few hours at the Philadelphia Museum of Art, I walked down the hill to check out the Barnes Collection at its new home. When I first visited the Barnes Collection (as an art history graduate student at Penn) when it was in Merion, Pa., I was overwhelmed by how jam packed it was, how close together the painting were hung, a la 19th century Paris Salon.(Figure 2) I did notice lots of hinges, I just didn't know what to make of them. When I saw the collection again recently, all I could think was that I would have gladly traded three quarters of the 181 Renoirs in the collection for another great Cezanne or Matisse. And all those hinges! More than 30% of the collection is hinges! Well, Dr. Barnes collected them and he had a right, I suppose, to insist that they be displayed. His art, his dime. But still, I left the Barnes Collection that day feeling full, but not sated.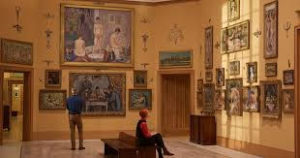 Okay, back to Lucas. The book actually begins quite a bit before Lucas did, to set the stage, to establish what a cultural city Baltimore was in the 19th century and what a cultured family Lucas was born into. I was happy to have my knowledge of Baltimore enhanced, especially the Peale family there since I already knew quite a bit about the Peale family in Philadelphia. Have you been to the Portrait Gallery at the Second Bank in Philadelphia ? It is filled with portraits of Revolutionary heroes by the patriarch of the Peale family, Charles Willson Peale. I am here to tell you that the museum confirms my belief that too much is too much. Too many Peales is simply unappealing. (Figure 3)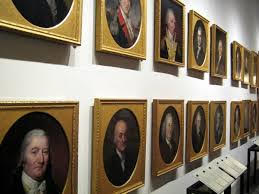 Figure 3. Bust Portraits by Charles Willson Peale, Second Bank of the United States, Philadelphia, Pa.
Where were we, oh right. Lucas seems to have had a rather spotty academic and employment record in the US. It seems clear (to me at least) that his father provided him with an annual allowance because he didn't want George to have anything to do with the successful printing business he left to his other sons. Once installed in Paris, Lucas put together an enviable life for himself. He became a charming cicerone who not only found art for his clients to purchase (at a 5% commission, seems reasonable), he escorted them to art museums and on rambles through Paris. He saw to their more mundane needs as well, baby sitters, doctors' appointments, etc. Sure it must have been unpleasant to be treated like a 'gofer' as he sometimes was, or have his intellectual contributions ignored or forgotten as occasionally happened, but those clients permitted him the lifestyle he desired.
As Lucas selected paintings for his wealthy clients, he bought lots of stuff for himself, some sculptures (mostly by Barye), studies, sketches, sometimes copies, by artists whose paintings he purchased for his clients, (Figure 4 & 5 ) about 300 in all, along with their palettes when he could.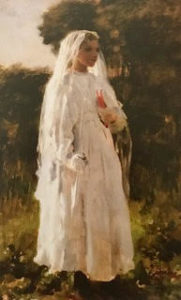 Figure 4. Jules Breton, Study for 'The Communicants' 1883, George A. Lucas Collection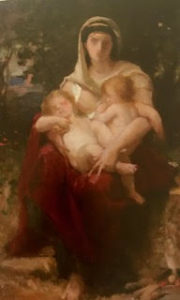 Figure 5. William A. Bouguereau, Sketch for 'Charity' 1872, George A Lucas Collection
He also amassed a large collection of art books and catalogues. But mostly Lucas collected prints, about 20,000 of them by the time he was done. And I think it is safe to say that Lucas was addicted to prints. He gorged on prints, mostly cheap prints, paying pennies for some of them, not much more for most of them. (Figures 6 & 7)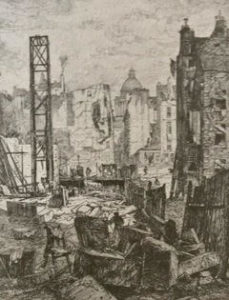 Figure 6. Maxime Lalanne 'Demolition for the Drilling of Blvd St Germain, 1862, George A Lucas Collection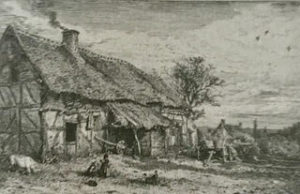 Figure 7. Charles E Jacque, Landscapes: Peasants' Thatched Cottage, 1845, George A Lucas Collection
The author suggests that Lucas bought the art he could afford. But that omits the fact that Lucas obviously didn't want to live in a garret surrounded by art. He liked his luxuries. He bought a maison secondaire in the compagne where he entertained his artist friends with their wives and mistresses (I'm guessing not at the same time). Eventually his own comfortable Parisian apartment wasn't big enough to hold all the stuff he was collecting, (Figure 8) so he started storing some of his collection in his mistress's apartment, which conveniently was in the same building, on the same floor, as his own. Lucas' mistress, 'M' is an interesting subject. I wish I knew more about her.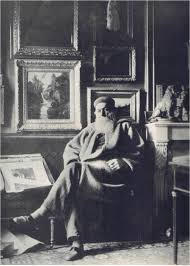 Figure 8. Dornac, photograph of George A Lucas in his apartment, 1904
What art, I hear you asking, did Lucas acquire for his clients and amass for himself?
Well, here goes, the art Lucas collected for himself and helped his wealthy American businessmen clients acquire was Salon sanctioned art, art approved by the Academie des Beaux-Arts. Lucas may have collected with abandon, but he wasn't prescient in his tastes. He had no interest in proposing to his clients or buying for himself, paintings by Impressionists, for example. He knew James McNeal Whistler from Baltimore and became friendly with Mary Cassatt in Paris but except for a painting or two by Pissarro and a print or two by Cassatt, impressionism might never have been a thing. But here is the thing, Lucas was buying and collecting contemporary art just not the art we appreciate now. He was conservative, his clients were conservative. And if it had all ended there, that would have been fine. But it didn't and therein lies Part 2 of this tale.
Lucas died in 1909. And what happened to all the sculptures and paintings and prints and books that he amassed over the years, is the subject of the second part of this book. And lucky for us, the author of this book is both lawyer and art historian because it is legal expertise that is required to untangle and explain all the issues that surrounded the life after death, that is the life of this collection after the death of its collector. I am going to lay all the blame on Lucas' niece. From 1857 when Lucas arrived in Paris until his death 52 years later, he never returned to the U.S., not once. But in the late 1890s, his niece, Bertha, began visiting him in Paris. Somehow, 'M' his mistress of over 40 years, and her son, Eugene, with whom Lucas had, according to the author, a warm relationship for all those years, were blamed for Lucas' declining health. Really, an 80 year old man can't become infirm without it being somebody's fault ? An old will disappeared, a new will was written, 'M' died under mysterious circumstances. I can only hope that her son Eugene managed to wrangle a settlement out of Bertha before Lucas was persuaded to bequeath his collection to one of his patrons, with the understanding that it would eventually go to the Maryland Art Institute, an art college. Lucas didn't want it to go there, he wanted it to go to his patron's museum, the Walters Art Gallery. But Walters knew Lucas' collection and he knew that the paintings Lucas had helped him purchase were of an altogether higher quality than what Lucas had purchased for himself. Lucas' niece didn't want her uncle's collection either, she just wanted to take the best bits of it for herself. She had started even before Lucas' death, "carrying off" (Lucas' words) 'a lot of his bronzes, china, and watercolors' (author's words).
The legal battles that ensued during the next century over the Lucas Collection were completely different from those that surrounded the Barnes collection. The paintings that Dr. Barnes collected were not the problem, it was their accessibility and the directives of Dr. Barnes' will, that were. The paintings, all agree, are stellar. The paintings in the Lucas collection are not. The controversies surrounding the Lucas Collection that Mazaroff discusses weigh the value of maintaining a collection in its entirety and the rights of a museum to deaccession works it owns. Mazaroff mentions an exhibition of the Lucas paintings that was held at the Baltimore Museum of Art in 2007. Mazaroff thinks it was a bad idea to exhibit so many of these paintings. Of course it was, even too many Renoirs is too much. To prove his point, Mazaroff refers to a review of the exhibition by the art critic of the Washington Post, Blake Gopnik, the brother of Adam Gopnik, the New Yorker Magazine's Correspondent in Paris in the late 1990s. Gopnik wrote in part, "What makes Lucas, and this show, unexpectedly engaging is that Lucas didn't buy and give the right pictures. He mostly bought the 'wrong' ones. With the 20/20 hindsight of art history, it looks as if Lucas had an unerring knack for not admiring the figures that posterity would value most." Witty and biting, but right on target.
Gopnik continues and what he says next, is what we have been discussing. "I'm sure (writes Gopnik) that if he had polled the leading critics of his day, Lucas would have found overwhelming support for his own tastes.….. " How many of us, really, when you think about it, would have been as prescient as Dr. Barnes. Wouldn't most of us, like Lucas and his clients, have opted for the safety of Salon approved art, art that looked right and 'normal' to us ?
At the end of this book, Mazaroff suggests that a room in the Baltimore Museum of Art should be given over to celebrating Lucas' life. A room somewhere is a great idea. But I think that since this collection is as much material culture as art history, it should be someplace that celebrates the 'stuff' that defines a person, a place, a period. Is there such a museum in Baltimore, I don't know but an art museum just doesn't seem the right fit. Does the Smithsonian Institution, 'America's attic' have period rooms? Lucas' stuff could go there. Or maybe the collection should be at a university with an excellent American Studies program, like Penn or Yale, where graduate students could mine the collection to make sense of an era. Maybe it should have stayed in Paris and been acquired by the Museum of Decorative Arts, for example or the Carnavalet for another example. This book considers so many interesting and important topic - art, culture, taste, law. I'm glad I read this book, I encourage you to read it, too !