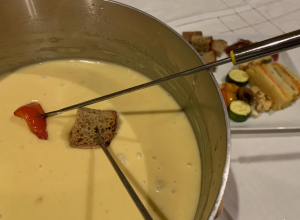 Cheese fondue….is a total "dream meal" for cheese-lovers! Just thinking about the creamy, cheesy dipping medium makes us happy. In the vein of trying to make it healthier, however, we like to eat it with vegetables in addition to the traditional bread cubes, followed by a salad course.
As for which cheese to use – in France, these varieties work well: Beaufort, Emmantal, Gruyère, Abondance, Comté, Tomme de Savoie, Raclette de Savoie (raw milk), etc. In the US, I've used Gruyère, white cheddar and Swiss cheese. I really don't worry too much about which cheese to use out of this list, but I do insist that it be the highest quality possible. As a rule of thumb, you should count on about 200g of cheese per person. On the question of which white wine to use in the recipe – I like dry sauvignon blanc. I use much more wine compared to many recipes and I find this balances out the richness of the cheese nicely (without a boozy flavor). Also, I'll share with you that my everyday little "vin de table" (7-10€/bottle) does the trick remarkably well! I prefer to save the more expensive wine for drinking, but to each his own! Our locally produced "eau de vie de prune" adds a great taste, so I recommend adding brandy if you have it. Finally, the bread: pumpernickel or any caraway seed studded rye bread has been my latest fetish, but a sour dough country loaf with grains is also fantastic, and you can't go wrong with the classic baguette.

* Note: if serving fondue during the COVID pandemic you should avoid having every guest individually dip their fork into the fondue pot as is traditionally done. Instead, it works well to simply use a large spoon to serve the cheese onto individual plates, over the bread and vegetables. I know it isn't the same convivial experience, but nothing is the same these days…!
Ingredients – for 3 to 4 people
1 garlic clove
650g total cheese (¼ Gruyère, ½ Beaufort, ¼ Abondance)*
300g white wine
100g more white wine mixed with 20-25g cornstarch
1 spoonful of Kirsch (optional)
Freshly cracked pepper, freshly ground nutmeg
Additional seasonings that I use (totally optional): splash of brine from my homemade pickled jalapeños which adds a little pep, splash of rosemary flavored water (also home produced), piment d'Espelette
* when in US, I have used 225g white cheddar + 425g total Gruyère and other Swiss style with delicious results! Another combo I have already used in France: 165g Raclette de Savoie (raw milk) + 320g Abondance + 165g Emmantal. FYI!
Garnish
Rye bread, or other bread, cut into cubes
Other Optional Garnish Ideas – according to your preferences
Count on a total of about 200g per person, if serving
Fingerling potatoes, fully cooked (oven roasted is nice!)
Vegetables of your choice, pre-roasted & left a little crisp (Carrots, red/yellow peppers, broccoli, zucchini etc.). Can be served raw for those into raw food!
Green Asparagus, pre-cooked al dente (available year round in the US)
Steps

Mise en Place.

Roast vegetables, if serving.

The potatoes should be fully cooked but the other vegetables can be left al dente.
Peel garlic, cut in half (remove green germ if any).
Cut cheese into small cubes (or use food processor).
Find a pan large enough to hold about 3 liters.

Rub garlic clove all around inside of pan and set aside.

Garlic lovers may eventually like to press the rest of the garlic into the pot.

Mix 100g wine (about 1 cup) with the cornstarch.

Reserve (re-mix before using).
Cut bread into somewhat large cubes.

Can be slightly dried if desired (for taste & texture).
Make the Fondue:
Place wine (300g) in pan.

Warm, BUT DO NOT BOIL!
Add the wine-cornstarch slurry and mix together. Let it heat up.
Add the cheese, a little at a time, but never boil.

Keep adding until all cheese is added and melted.

It can take a while to get it all melted, from 20-30 minutes.

(On my electric induction stovetop, I waver between settings 4 to 6, and once ready, it holds perfectly at setting 1.

FYI.)
After all the cheese is melted, optionally add the Kirsch.
Season with pepper and freshly grated nutmeg.

Taste and adjust until good.

(Here is where I may add extras to spice it up such as the jalepeno pickling juice.

I suggest making the traditional fondue first before playing around with flavors.)
Thin out with more wine if too thick.

Let cook down if too thin.

The trick is to get the consistency just right!
To Serve during COVID-19 times:
Bring fondue pot to the table, using a warmer underneath to keep cheese smooth.

Because of COVID, I recommend plating the vegetables and bread cubes on individual plates for your guests.

Spoon cheese onto each guest's plate, covering some bread and vegetables.

Repeat as necessary!
To Serve during normal times (after COVID-19):
Bring pot of fondue to the table, with a warmer underneath to keep cheese warm and smooth.

Give everyone a fondue fork (or regular forks work just fine).

Pass the bread basket with large, lightly toasted bread cubes.
Likewise, pass the vegetables platter to let guests take what they like.
Let everyone start dipping to their delight!!

Serve nice wine and enjoy the shared, cheesy experience!!

Note that potatoes are not good to dip in the pot but they are still delicious to serve with this rich meal.
A simple tossed salad with a cider vinegar vinaigrette is a delicious way to follow the fondue, but this is totally optional bien sûr!