CHAPTER TWENTY NINE. IN HUSTON'S HEAD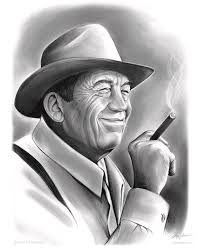 The next person I was asked to interview on stage at the National Film Theatre in London was John Huston, who was in town to publicise his memoir An Open Book.
Huston's was a patchy career. For every Maltese Falcon, Treasure of the Sierra Madre and Asphalt Jungle , there was a Freud, a Barbarian and the Geisha, a Moby Dick and, of course, The Bible, with Huston himself playing a patriarchal Noah. Lately he'd largely been written off, but there was art in the old dog yet, as he would go on to prove in the last decade of his life with Prizzi's Honor, The Man Who Would Be King and the touching valedictory The Dead.
In 1980, however, he was better known for his brawling, drinking, fornicating, and the generally destructive lifestyle that had left him a near-invalid. Screenwriter James Salter sketched a memorable picture of Huston's life in Roman semi-retirement, his needs seen to by assorted sycophants, among them a woman who supplied girls to the rich and famous
He was living in a suite in the Grand Hotel on a diet of vodka and caviar. She would call him.
"John, do you want some girls?"
"Bring them around," he said. "We'll have some fun."
She brought three, one of them eighteen years old, (He loved young tender girls, she explained.) In the late afternoon was best.
"Darling," she said to me after describing a scene that might have taken place at Roissy [ie, in the s/m classic Histoire d'O.]."You're a writer, you should know these things."
Whenever I began to regret taking the job, my then-wife Joyce urged me on. James Agee, who scripted The African Queen and who, as a critic, championed Huston - "Most of the really good popular art produced anywhere comes from Hollywood," he wrote, "and much of it bears Huston's name" – was her great uncle, and she was eager to meet one of the men who knew him best.
Huston's publisher arranged a preliminary lunch in the Grill Room of the Savoy."Why not come along?" I said to Joyce. "There's just Huston and his PA, someone from the publisher, and myself. I'm sure they won't mind." But she, a photographer, had a shoot that morning. She hoped, however, to finish in time to join us.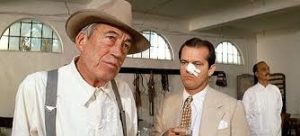 I arrived with the publisher's representative, to find Huston and his helper – an attractive young woman, naturally – already seated by the tall windows looking across the sunlit Thames. Every hair of his white beard flared with the back-light that also edged into each fissure of his craggy face. Tubes led to his nostrils from an oxygen tank, but in other respects he seemed much like the man who, six years before, had strutted with such authority through Chinatown as the drawling tyrant Noah Cross.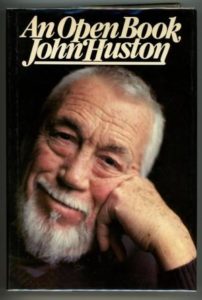 This impression didn't survive a few minutes of conversation. The politeness with which he deflected our questions revealed how age and illness had eroded his memory. He forgot titles, confused dates and names, and barely recalled even the anecdotes that filled An Open Book. Would our NFT talk be a repeat of Vincente Minnelli's appearance, where the interviewer's queries elicited little but mumbled monosyllables?
Typically, the rest of us ordered a Thinking Person's Lunch; grilled lamb chop, green salad, mineral water. But Huston was having none of it.
"I have heard," he rumbled to our waiter, "that your steak and kidney pudding is exceptional."
"Indeed it is, sir!"
A snap of the fingers brought to the table a domed trolley the size of a Volkswagen. Its silver cover rolled back to reveal a tower of inch-thick suet pastry, from the breached battlements of which spilled an oozing stew, gleaming with grease.
"Splendid!"
As the waiter heaped his plate, Huston tucked a napkin into his collar and attacked it with appetite.
Meanwhile, Joyce had rushed through her shoot. Panting into the Grill, she headed for our table – to be deflected, in the best tradition of British service, by the head waiter, who steered her into an armchair maintained for just such occasions.
"If you'd like to take a seat and catch your breath..." He glanced across the restaurant. "There's plenty of time. They've hardly begun." He waved to a waiter. "A glass of water for madam."
Shortly after, as she arrived, poised, at our table, hair combed and make-up adjusted, Huston abandoned his pudding to stand and shake her hand. Only then did he notice two waiters arriving with an additional chair and a new place setting.
"Oh," he said, with every indication of delight at the prospect, "you're going to join us!"
"My wife is the great niece of James Agee," I explained. "She very much wanted to meet you."
For the first time since we met, his eyes came alive.
"Ah, Jim!" he said. "What a delightful man. I never knew any writer who brought so much truth to his work."
Lunch forgotten, he launched into story after story about the writing of The African Queen; their decision to work on a ranch near Santa Barbara, as far as possible from the temptations of Hollywood; the practice (urged by Huston, it went without saying) of beginning each day with two sets of tennis and a brisk swim in the lake; the gradual discovery that, though Huston went to bed at ten, Agee worked on, chain-smoking and emptying a bottle of bourbon a night as he wrestled with his first screenplay; and of course the disastrous tennis match during which he collapsed with a heart attack.
It was impossible not to pay attention to Huston's leonine growl or avert one's eyes from that mesmerising gaze. The stories in his book were not, as I'd feared, forgotten. Rather they lay dormant in the darkened house of his memory. It required only that one turn on the lights. Had he wished to recruit our help, he could not have chosen a more effective method. That's exactly why he's doing it, whispered the cynic in me. And such manipulative behaviour would certainly have been consistent with the bully, brawler and sadist of most people's description. But by then he'd won us over.
Our on-stage conversation was a success. Nobody saw the work that went into maintaining an illusion of ease. My notes indicate the path we picked through his career, and the cues necessary to reconnect him with his lost memories. Behind his foxy grandpa facade, was Huston congratulating himself on having pulled the wool over some more sets of eyes? If so, he was too skilled to betray himself. And if it was so, there was some consolation in knowing that, among his many dupes, we were in the best of company.