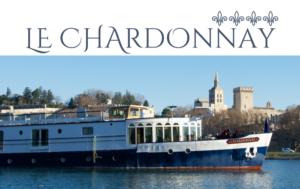 Discover Provence on this 8 day cruise on the Rhone with stops at Arles, Avignon, Les Baux de Provence, Chateauneuf du Pape, le Camargue, Aigues-Mortes, Gourmey dining aboard our 'ship', Le Chardonnay, and wine and food adventures on dry land.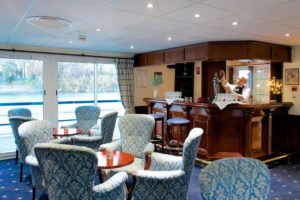 Limited to 20 passengers this will be an intimate experience to collect wonderful individual and collective memories-I guarantee it, as a former suit salesman ( George Zimmer, not me) famously said, although I too was once a suit salesman.
Day 1: Avignon (Embark)
♦ Arrive in Avignon, where your floating hotel "Le Chardonnay" is moored in the historic center opposite the Cité des Pape
♦ After comfortably settling into your cabins, enjoy a Welcome Cocktail on the sun deck
♦ Dinner on board
♦ Overnight in Avignon
Day 2: Chateauneuf Du Pape
♦ Breakfast on board and Morning cruise to Chateauneuf Du Pape
♦ VINEYARD ESCAPADE TO CHATEAUNEUF DU PAPE:
Provencal Lunch at the "Chateau Des Fines Roches"
♦ Return cruise to Avignon and Dinner on board
♦ Overnight in Avignon
Château des Fines Roches
Located in the heart of the prestigious vineyards of Châteauneuf-du-Pape, this castle built in the late 19th century was inhabited by the Marquis de Baroncelli and frequented by many Provencal poets.
Day 3: Avignon
♦ Breakfast, Lunch & Dinner on board
♦ STEP BACK IN TIME AND ENJOY THE AUTHENTIC PROVENCAL WAY OF LIFE:
Guided Tour of Historical Avignon

Visit L'Isle sur la Sorgue - Capital of antique dealers in Provence... village famous for antique shops and the weekly open air market which is one of the most colorful and typical in Provence
Discover the Most Beautiful Hilltop Village In Provence: Gordes, with its exceptional charm and magnificent views of the surrounding countryside of the Luberon
♦ 'Avignon by Night' cruise and overnight in Avignon
Day 4: Arles
♦ Breakfast on board
♦ Scenic morning cruise to Arles

♦ Lunch on board at Arles quay
♦ AFTERNOON IN ARLES – Visit and Free Time:
Guided Tour of Historic Arles, its history, its monuments, and his characters of yesterday and today

Return on board or explore further as you wish, perhaps the Van Gogh Tour, a marked walking tour to discover at your own rhythm the places which inspired the most beautiful paintings of the master artist

♦ Dinner on board with "Gypsy Kings" theme evening entertainment and overnight in Arles