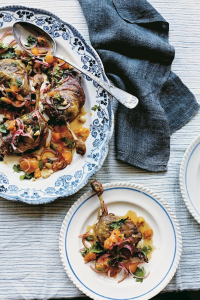 serves 8
FOR THE DUCK
8 duck legs (3½ to 4 pounds total)
2½ teaspoons fine sea salt
1 teaspoon freshly ground black pepper
1 teaspoon dried juniper berries, crushed with the side of a knife
3 garlic cloves, finely grated or minced
8 sprigs fresh thyme, torn into several pieces
3 sprigs fresh rosemary, torn into several pieces
2 medium satsuma mandarins or large clementines (or other seedless tangerines), peeled and pulled into sections
½ cup fresh chervil leaves and tender stems (or use parsley or cilantro)
FOR THE SAUCE
2 medium satsuma mandarins or large clementines (or other seedless tangerines), peeled and pulled into sections
¹⁄³ cup chopped dried apricots
2 tablespoons white wine vinegar, plus more to taste
Fine sea salt
3 tablespoons extra-virgin olive oil
¹⁄³ cup coarsely chopped whole (unpeeled) almonds
½ cup thinly sliced red onion
Large pinch of crushed red pepper flakes
1. Prepare the duck: Pat the duck legs dry with a paper towel. Then use the tip of a sharp paring knife to make tiny slits through the duck skin without piercing the flesh. The easiest way to do this is to hold the knife parallel to the duck, rather than perpendicular (which would be the intuitive way to do it).
2. In a small bowl, combine the salt, pepper, and juniper berries. Rub this mixture all over the duck, paying more attention to the exposed flesh on the bottom rather than the skin (though get that, too). Then rub the garlic all over the duck in the same way. Scatter the herb sprigs in a rimmed baking sheet or other large dish and put the duck legs, flesh-side down, on top of them. Refrigerate, uncovered, for 24 to 72 hours (the longer the better).
3. Cook the duck: Heat the oven to 325°F. Place 3 or 4 of the duck legs, fat-side down, in a large ovenproof skillet and heat them over medium-high heat until the fat starts to render. When the duck is very browned on one side and has rendered most of its fat, after about 10 minutes, transfer the duck, browned-side up, to a large roasting pan. Repeat with the remaining duck. When all the duck is browned, cover the pan with foil and place it in the oven. Roast the legs for 1½ hours.
4. Remove the foil, raise the oven temperature to 375°F, and continue roasting the duck until it is golden brown, 30 minutes to 1 hour. Let the duck cool slightly in the pan, 15 to 30 minutes (the fat should stay liquid).
5. While the duck is cooling, heat the oven to 425°F.
6. Remove the duck legs from the pan and pour the fat into a container. Reserve the fat for future potato-roasting.
7. Return the duck to the roasting pan and scatter the satsuma sections around the legs but not on top of them. Roast until the duck is hot and crisp and the satsumas are wilted, 15 to 30 minutes.
8. Make the sauce: While the duck is crisping, coarsely chop the satsuma sections and place them in a medium bowl. Add the apricots, vinegar, and a pinch of salt.
9. In a small skillet, heat the oil. Add the almonds and cook until they are golden brown, about 5 minutes. Pour the almonds into the bowl containing the apricots and let them cool. Then stir in the onion, red pepper flakes, and salt to taste and let the mixture sit for at least 10 minutes for the flavors to meld. Taste and add more salt and/or vinegar just before serving.
10. To serve, arrange the duck and satsumas on a platter, top with the chervil, and spoon the apricot-almond sauce over all.
"Reprinted from Dinner in French. Copyright © 2020 by Melissa Clark. Photographs copyright © 2020 by Laura Edwards. Published by Clarkson Potter, an imprint of Penguin Random House, LLC."