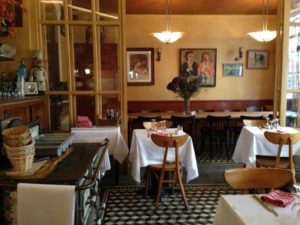 A fixture since the 20s most of the classic seasonal bistro dishes are available including pot au feu, tete de veau, rognons, civet de sanglier, lapin and boeuf bourgignon. You can start with a sharable order of the house paté or rillette de lapin and if you want to save a few euros for a calvados the pichets of house wines are eminently drinkable and reasonably priced.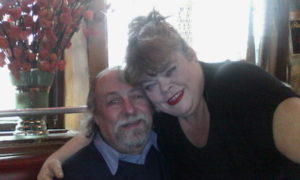 It was a wet and blustery day that screamed for pot au feu and a hug from Valerie.
I was accompanied by my Chicago pal, Bob Glaser and over glasses of Cotes du Rhone we delighted in the boiled beef, vegetables and bone marrow that we spread on baguettes and generously salted with sel de Guerande.
Normally this would have been enough but a calvados and coffee delivered sufficient warmth to face the elements. Chez Paul never disappoints.
Flash forward a few years and my friend Nadine Sacha, the artist was in town and once again the weather was wet and chilly. Recalling her Paris childhood she opted for the bistro classic, tete de veau. M selected brochette de boeuf and I had a generous steak au poivre with pommes de terres dauphinois-always a winner.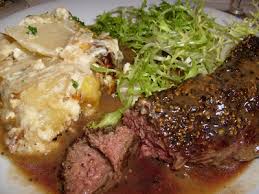 Having just returned from the Périgord we drank a Bergerac and saved enough for
the cheese course.
A lively place especially for a weekend lunch on a rainy day like today when regulars and families abound.
13 rue de Charonne (at rue de Lappe), Paris 75011
01-4806-7910
Metro: Bastille