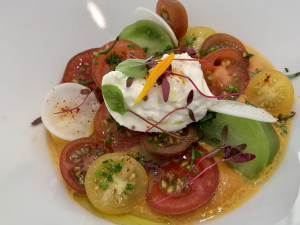 I look forward every year to vine-ripened summer tomatoes and this year we are lucky to have an abundance of them from our garden. This is a simple salad to throw together as a light lunch or for a 1st course. You can use multicolor tomatoes to make the dish look pretty, but also, the different varieties do add slightly different flavors! When tomatoes are perfectly ripe, you should be able to easily peel them with a knife. Also, you don't need to do too much to them, however, good seasoning helps bring out their best. The vinaigrette in this recipe adds a few more flavors thanks to the black olives, capers, shallots and chives, but if you're really pressed for time, any vinaigrette will be nice. Serving a nice bread is important with this dish because I think it would be a crime to let all that delicious tomato juice and vinaigrette go to waste!
Ingrédients – 4 people
1 medium vine-ripened tomato per person or about 500g/1 lb of tomatoes
250g (9-10 ounces) of Burrata or buffalo mozzarella cheese
High quality extra virgin olive oil (EVOO) – quantity desired
Fresh basil leaves, micro greens if you have them – quantity desired
Fleur de sel
Vinaigrette:
50g (1.8 ounces) red wine vinegar (or freshly squeezed lemon juice if you prefer)
200g (7 oz) high quality EVOO
6 large Kalamata olives, pitted and chopped finely
About 50g (1 small) shallot, finely chopped
1 teaspoon capers, chopped finely (optional)
Seasonings as required: salt, pepper, sugar
Fresh chives – quantity desired
Other optional ideas to add if desired: finely diced preserved lemon, fresh herbs, pine nuts, freshly grated red peppercorns.
Preparation
Make vinaigrette : Blend the vinegar and olive oil together. Add other ingredients, except chives and other fresh herbs, if using. Season. Infuse 1 hour, approximately. Add chives and fresh herbs. Taste and adjust seasonings to your liking.
To Serve:
Re-mix the vinaigrette.
Slice the tomatoes (either in rounds or in wedges – both ways are good!)
Using a tray, lay out all of the tomatoes and season with EVOO, regular salt, and freshly ground white pepper (or black).

I go light on the pepper.
Place a little of the vinaigrette on each plate, then place the tomatoes on each plate.

Portion the cheese as required and lay on top of the tomatoes.
Season the cheese with the vinaigrette, then add fleur de sel and piment d'Espelette or Cayenne pepper.
Add more vinaigrette to tomatoes and cheese, if desired.

Add basil microgreens or basil, if desired.