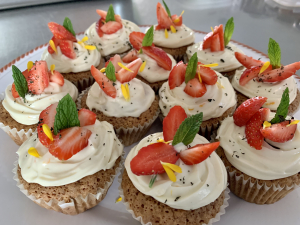 When I had served carrot cake to our French neighbors, they looked at me suspiciously. "Carrots in a dessert, how strange", said the looks on their faces. After that experience I realized that it would be more relatable if I called it "Cake façon pain d'épices"! Hence the name for these cupcakes! I first made these for my mom's 75th birthday in 2017. It was unanimous that day that these were winning cupcakes! They are light and fluffy, yet very moist. I top them with a classic cream cheese frosting, however, I recently started using this "cooked version" which I like very much. The frosting recipe comes from epicurious.com but I no longer have the reference for the cupcake recipe which means I cannot give credit for it as I would like. I will apologize upfront that I also converted the cupcakes into metric units and I no longer have the US measurements. The frosting makes more than you need, but you can freeze it or find other uses for it. You could also double the cupcake quantity! ☺
Ingredients for 14 cupcakes -standard size pan with 5cm/ 2" bottom measure
Cupcakes
2 large eggs (120g)
205g sugar
103g neutral oil (sunflower or similar)
150g cake flour (or normal flour), sifted
3-4g baking soda, sifted
3-4g baking powder, sifted
1g ground cinnamon (or to taste)
1g ground allspice (or to taste)
2g salt
228g carrots, very finely grated
30g hazelnuts, roughly chopped
Frosting
225g (1 cup) sugar
81g (1/2 cup) all-purpose flour
6g (¾ teaspoon) salt
411g (1¾ cup) whole milk
2 teaspoon vanilla extract; 1/8 teaspoon almond extract (optional)
113g (1 stick) butter at room temperature (diced, about 10 pieces)
454g (16 ounces) cream cheese, slightly softened
Steps - Cupcakes
Pre-heat oven at 165°C, convection.

Put cupcake papers in mold.
Place eggs in stand mixer.

Add sugar.

Beat on medium speed about 5 minutes until lightened in color and light texture.

Use whisk attachment.

Slowly pour in the oil and whisk until well blended.
Weigh dry ingredients in a bowl.

Sift all.
Remove bowl from stand mixer and add the dry ingredients, little by little without over mixing.

Add the nuts towards the end.
Fold in the carrots.

I grate them in my food processor until they are very fine.

Fill molds 3/4 full.

I pour it in carefully but you could also ladle the batter into the molds.

Bake 20-25 minutes.

Let cool.
Top with frosting.

Garnish as you like.

Ideas:

strawberries, sprinkles, chopped nuts, cocoa powder, raspberries, mint, edible flower petals.

I would tell you, however, that the strawberries are what make these extra good!
Store in fridge.

Remove from fridge about 10 minutes before serving (if you can wait that long!).
Steps – Cream cheese frosting (I modified the metric quantities & technique)
Weigh sugar + flour + salt into medium saucepan.

Mix with whisk.

Make well in center of pan, pushing dry ingredients to sides.

Pour some milk into center and gradually take in some flour, whisking the flour into the milk like you would do for making crêpes batter.

Repeat until all flour is incorporated.

This should help you avoid creating lumps.
Place on medium-high heat, whisking continuously and scraping the sides of the pan until mixture thickens, about 4 minutes.

Reduce heat to medium and cook 1 more minute.

The result = thick, glossy paste resembling rubber cement!

Remove from heat & let cool completely (can take up to 1½ hours so plan ahead!).
Transfer to bowl of stand mixer, with whisk attachment.

Add vanilla and almond extracts; mix. Gradually add the butter, one piece at a time, beating until well combined and fluffy before adding more.

Repeat process with cream cheese.

Continue beating until fluffy, about 3-4 minutes.

Cover and chill until cold enough to make piping it easier.
Do-Ahead Notes: Frosting can be made days in advance. Re-beat about 4 minutes to bring texture back to shape. Can be frozen - texture does loosen slightly but it is still a good topping on the cupcakes! Nice to have in a pinch!