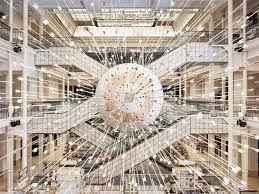 A Bull's Eye Every time - Le Bon Marché and the Artists
Beverly Held, Ph.D. aka Dr. B.
I know I have been complaining a lot about how cold and dreary it is in Paris now, with no museums where I can warm my soul with exhibitions and no cafés where I can warm my freezing fingers with a cafe creme or a chocolat chaud. Yet despite all my complaining, I hope I made a case for coming to Paris in January for the fabulous Galettes des Rois. Here's another reason that Paris should be on your short list of January destinations. My focus today is not food and art, but rather commerce and art. Specifically art at my favorite department store, Le Bon Marché. Because every January, along with their annual winter white sale, Le Bon Marché invites an artist to fill its grand central space and the windows along the rue de Sevres which have just been stripped of their Christmas decorations. Have you ever been absolutely swept away by something you hadn't anticipated ? Well, that is exactly what happened to me six years ago, I came to shop and I stayed for art. And what art it was, that first time and and what art it has been every year since. Click here to keep reading about Le Bon Marché's fabulous January Art Installations. On that website, my website, you will find all of the articles that originally appeared here, in the Paris Insider. My articles will always appear here first, on Tuesdays and will be available after that at www.museemusings.com where you can learn more about me, Dr. B.