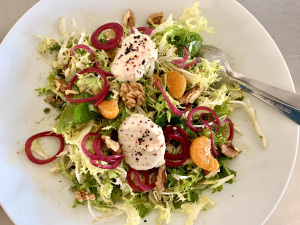 The abundance of goat cheese throughout France makes this salad a kitchen staple. The varieties of goat cheese produced in the hexagon are abundant, and the one produced near us is called "cabécou". It is a close cousin of the more famous Rocamadour that hails from the incredibly beautiful cliff side village of the same name.
At its most basic, this salad is prepared by warming a disc of goat cheese on a slice of toasted baguette and then serving it on a salad. A drizzle of honey on the goat cheese is commonly done and makes a great compliment. You can leave it at that and keep it ultra-simple, or other ingredients can be added. It seems there are endless possibilities for preparing this salad – everyone has their own way. You can add "lardons" bacon, egg, walnuts, cured duck breast, cherry tomatoes – just to give a few examples.
This is my version. Being a big salad fan, and wanting to turn this into a lunch meal instead of a 1st course, I add mandarin orange segments, diced avocado, tons of fresh cilantro and parsley, spicy cured Spanish chorizo, pickled red onions and mustard greens. It covers all the bases: tangy, sweet, spicy, bitter and salty. Délicieux! Plus, it is filling yet healthy – check in the box! Feel free to personalize it with your favorite ingredients. The most important thing, of course, is your choice of goat cheese. It is only worth putting warmed goat cheese on the salad if the goat cheese tastes delicious! If you don't have that, warmed feta (with or without the sesame seed crust from my recently shared recipe) would be a good substitute.
Ingredients for 2 people
Salad Ingredients
5 handfuls of cleaned frisée salad greens
2 handfuls of cresson, mâche (lambs leaf lettuce) or mustard greens
2 mandarine oranges, segmented
2 generous sprinkles of walnuts
1 avocado
2 portions of cured Spanish chorizo, finely diced (approximately ¼ cup or 60g)
½ bunch of cilantro & parsley (remove parsley from stems but can be left on the cilantro if cilantro is young and stems very thin)
Vinaigrette:
2 tablespoons balsamic vinegar
1 tablespoon Dijon mustard
Salt & pepper
About 3-4 tablespoons extra-virgin oil
1-2 tablespoon high quality walnut oil
Honey, to taste
Preparation
Prepare salad ingredients:

Clean salad greens and herbs; reserve in fridge to crisp up lettuce.
Segment the mandarins.
Dice 1 avocado; squeeze with lemon juice to preserve color.
Shell the walnuts if using whole nuts. Roast lightly if you like.
Finely dice the cured chorizo.

Preferably, it will be spicy, with little fat and nicely aged so that it is solid for slicing.

Remove outer casing before dicing.
Pre-heat oven to 200°C/400°F.

Prepare vinaigrette.

Put vinegar, mustard, and salt/pepper in a bowl and wisk together.

Whisk in the olive and walnut oils.

You can also use a jar instead.
Taste and adjust seasoning.

Add honey or olive oil to taste, if too acidic.

Season to taste with more salt to bring out more flavor.


Assemble salad:

Place all salad ingredients into a large serving bowl for 2 people.

Add 2 tablespoons of dressing around the salad, along the outside of the salad bowl.

This helps prevent the salad from wilting while you warm up the goat cheese.

Don't toss yet!

Warm the goat cheese:

Place room temperature goat cheese disks on a cookie sheet with a Silpat (silicon mat).

Warm in pre-heated oven for 2 minutes.

Check.

It may or may not need another minute.

If it starts to "melt", it is done.

If it "melts" too much, don't worry – remove pan from oven and it will set up enough to serve.

I have also heated goat cheese in a pan on the stove top but it doesn't heat through as nicely.

It is "good enough" however, if you are not keen to heat your oven just for 2 goat cheese discs!!
While goat cheese is in the oven, season salad with salt and pepper and toss.

Add more dressing as needed, but avoid weighing down the leaves with too much.

Remove goat cheese from oven when it is sufficiently warmed.

Using a metal spatula, transfer the warm cheese on top of the salad.

Season the cheese discs with fleur de sel or black Himalayan salt, and piment d'Espelette. Here is where you could also drizzle honey if you are so inclined.
Add finishing touches:

add pickled onion.

Grab the bread basket and go to the table with both the salad and bread.

Enjoy!
Note: Traditionally a goat cheese disc is served on toasted bread. I prefer to eat it in the salad rather than as a "tartine" or open face cheese sandwich (as I think of it as). But that's your choice! Feel free to warm the goat cheese disc on a toasted baguette slice if you prefer.