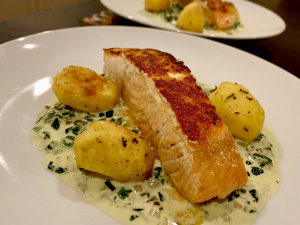 This is one of those delicious recipes that works great as an everyday meal when schedules are busy, and it is also very much guest-worthy. It comes together in about 10 minutes once you have gathered all the ingredients and prepped them. This recipe is made with spinach, but you can also substitute it with "oseille" (sorrel), if you are lucky enough to have an abundance of this tangy herb. Other ideas: this sauce would be equally good with poultry and roasted vegetables, and why not a steak?! I've also spread it cold on a cracker the next day when there are leftovers – it thickens up like a spinach dip!
As for the cooking of the salmon, you will get the desirable crusty finish on the flesh side by using a metal pan. You might need to practice with your own pan to get the heat just right. The same is true for cooking the skin side, if you are apt to serve it. If the heat is too high, it might get a little too "blackened" when you did not intend for it! When I don't serve the skin, I'm less concerned about this as it never impacts the flavor of the fish if it gets too dark. The exact cooking time of course varies with the thickness of the salmon. However, when done properly, the inside will be extremely moist and flakey and "rosé", meaning medium-rare. Anyone who has eaten overcooked salmon can attest to the fact that the flavor changes in a negative way. It goes without saying, but a high quality salmon, wild when possible, will give the best results in terms of flavor and texture. Enjoy!
Ingredients for 4 people
600g salmon (4 thick slices of around 150g each)
½ to 1 tablespoon olive oil
20g butter
2 shallots, 65g, diced finely – or substitute with white onion
100 ml white wine
200 ml heavy whipping cream
100g fresh spinach
Salt, pepper to taste
Potatoes, or rice, or other to serve with – your choice!
Preparation
Bring salmon to room temperature about 30 minutes before cooking.
Prepare sauce & other ingredients:

Dice shallots; reserve
Clean & spin dry the spinach; chop finely; reserve
Cut salmon into portions, if not already done
Cook potatoes or rice. If done ahead, reheat in time for serving.
Note: this prep can be done hours in advance, or even day before. Chop spinach just before using, however. If you are doing large quantities, a food processor will chop the spinach quickly.
Make sauce.

Heat pan and add butter; cook the shallots about 5 minutes over medium heat, without any browning or coloration.

They are done when they are shiny and soft.

Add white wine and cook the wine until half has boiled off and evaporated.

(Start cooking your salmon while the wine is cooking down!

See step #4 below.)

Add cream.

Cook gently for 10 minutes.

Add spinach and stir to combine.

Season with salt and pepper.

Let cook about a minute or so until the spinach is quickly done.
Note: Before serving, taste to make sure it's good! Re-adjust if needed (salt, pepper). There should be no need for a splash of lemon because the wine provides enough acidity. If the sauce is done before the salmon, just keep it on a very low simmer, covered with a lid, until ready to serve.
Pan cook the salmon:

Heat pan until very hot.

Season salmon flesh with salt. Add the quantity of oil you need to evenly cover the pan for the number of servings of fish that you have.

Set the salmon in the pan, flesh side down.

Let cook without disturbing for 5 minutes.

Make sure you have your hood vent fan turned on!

Flip over the salmon so that the skin side is down in the pan.

Cover loosely, and let cook 4 minutes.

Shut off heat and let sit 1 min undisturbed while you get your plates ready and ladle some sauce on the plates.

Remove the skin (or serve it to those who like crispy it !)

If serving with the skin, serve it skin side up and showing.

Otherwise, turn it around again and serve the flesh side up.
Serve with your preheated potatoes or cooked rice.

This is totally optional – a whole-grain baguette will also go well with this sauce!