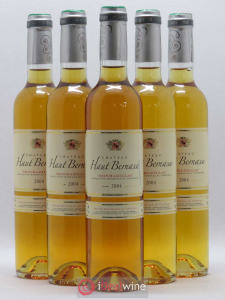 Chateau Haut Bernasse, in the very heart of the Monbazillac, is known to the growers and admirers of the wines of Bergerac as something of a shrine to Jacques Blais. Perhaps most widely known as the man who played his cello in the vineyards to soothe and stimulate his vines, Blais was one of a handful of dedicated and essential people who changed local history.
The wines of Bergerac suffered two great setbacks, the first being the legal separation from Bordeaux in the years before World War Two. The second was the great frost of 1956 which lasted so long it killed off most of the vines. Bergerac was then crudely and unhappily reborn as the provider of bulk wines to négociants (wholesalers) and supermarkets, so quantity rather than quality became the watchword. With a few exceptions, only the Pécharmant strove to maintain its traditional reputation.
A handful of people changed this and laid down the sturdy foundations we enjoy today: Jacques Blais; the Conti family of La Tour des Gendres; the Dournels of Les Costes; Philippe Biau of Ch Mallevieille; the Ryman family at Ch de la Jaubertie; and Patrick Monfort as their salesman and champion from his renowned cave in Le Bugue. Patrick also brought in Blais to help re-establish the Monbazillacs of Clos l'Envège. Many more supported their efforts, not least Daniel Hecquet at Chateau Puy-Servain and the Deffarge family at Chateau Moulin Caresse and the Dubard family of Chateau Laulerie all in the Montravel region.
After the 1980s, the pioneers were increasingly joined by a younger generation like Patricia Atkinson of Clos l'Yvigne, Richard Doughty of Chateau Richard, Bruno Bilancini of Chateau Tirecul la Gravière, David Fourtout of Les Verdots, Laurent de Bosredon at Ch Belingard, Christian Roche of l'Ancienne Cure, and many more. The Montravel's traditional fame, which dates back to Montaigne's time in the 16th century, was revived by the Deffarge family at Chateau Moulin Caresse and Daniel Hecquet at Chateau PuyServain. They all furthered the almost miraculous trend of improvement in the 1990s and after.
So there was some muttering when word began to spread that the shrine of Haut Bernasse was about to be run by a young man in his twenties, who had no forefathers in wine and had never been to wine school. But he had a farming background, knew his way around tractors and was a willing worker and eager to learn, and he was marrying the daughter of Christian Roche. Christian brought him on as an unskilled labourer and taught him his trade over the next seven years.
In 2014 Romain Claveille, aged 28, took over Haut Bernasse, rather boldly claiming that he intended "to blow the dust off" the fourteen hectares of vineyard at Haut Bernasse.
'We're going to have to change the rules, attract attention, re-define and distinguish ourselves to bring in new customers,' he said at the time. 'And change means innovation.'
First, he was committed to organic wines. Second, he thought wine should be marketed more to young drinkers to wean them away from the growing fashion for beers and cocktails. He launched a series of brands, in red, white, rosé and Monbazillac, that he called Les Oenopotes, or wine buddies, fine wines to be shared in a spirit of conviviality rather than in some gloomy, high-minded temple of gourmets. They were all priced affordably and are still less than 9 euros a bottle. (The Moelleux and his Oenopote Monbazillac each cost euro more).
For Roman, making the wines more approachable meant striving to reduce the tannins, so his red wine (eighty percent Merlot and the rest Cabernet Sauvignon) is allowed to macerate for only five days rather than spending much longer on the lees.
'I want it fruity, not too many tannins,' he told me on a recent visit, and in that he has certainly exceeded. Indeed, when tasting his dry white my nose fooled me for a moment; there was so much fruit in the bouquet thatI I was expecting a semi-sweet and I was startled by the very well-balanced reality.
Third, Romain has nothing against the old way of making wine. Indeed, he is one of the very few people to use an ancient hydraulic press, made in 1923, gently to press his best wines. And just to show he could, he produces a classic Monbazillac that is very good indeed. He calls it Ravindra, from the Hindu term for the full sun, 12 euros for a half litre bottle.
He is now starting to make a prestige brand of red wine that he calls Arcane, and we were allowed to taste some of the 2018 vintage. It was taken with a dipper from the barrel since Romain thinks it is not yet ready for bottling. It promises very well indeed and I will certainly be buying some just as soon as I can.
But now comes Romain's own revolution. Everybody knows that Mobazillac comes mainly from the Sémillon grape, which is very amenable to the 'noble rot' (Botrytis Cinerea), usually blended with Muscadelle. (The Monbazillac traditionally uses more Muscadelle than the rival dessert wine, Sauterne.) They use far less Sauvignon Blanc which is more resistant to noble rot, only fifteen or twenty percent of the grapes being affected. By contrast, a lot of Monbazillac is made with Sémillion that is eighty percent infected with noble rot and more.
So Romain is now starting to make a new kind of Monbazillac, mainly from Sauvignon grapes, but with much less of the noble rot, sugar and therefore a lower proportion of alcohol. He wants his wines to come in at 12 degrees, as opposed to usual 14, 15 and more.