When it's just the two of us at home, we tend to eat a light breakfast, preferring to hold out for a more substantial lunch. Consequently, smoothies are a regular rotation in our morning ritual. I love making smoothies because there are endless ingredient combinations possible – and they are so flexible! Sometimes I'll add vegetables as well but this recipe is 100% fruit based. I'm a big fan of fresh turmeric in my cooking because I like the earthy yet slightly bitter flavor, its natural coloring properties and of course, it has anti-inflammatory health benefits. Finding organic turmeric at our Thursday market in Monflanquin was a nice surprise. Needless to say, you'll always find turmeric in my freezer (the best place to stock it as it holds "forever" there) and I add it to smoothies frequently. Ginger gives a nice zing, and also provides its own list of health benefits. Any blender will work, but I have a soft spot for Vitamix because of its high power capacity which can pulverize and emulsify with incredible finesse. I have no affiliation with Vitamix, but can recommend it if you have extra money waiting to be burned. To sum up smoothies: It is only a matter of trial and error to get the texture, taste and thickness just right ! Enjoy!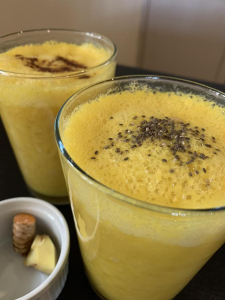 Ingredients – for 2 smoothies (about 350-400g each)
¼ of a pineapple
1 large mandarin
1 large banana
1 sweet-sour apple such as Pink Lady
1 cup of water, plus additional if required
½ tablespoon of protein powder (or substitute with a small handful of nuts)
Fresh ginger root, to taste
Fresh turmeric root, to taste
1 soup spoon of apple cider vinegar or lemon (optional)
Optional additions if you have a high power machine: a few fennel and/or coriander seeds, or a couple of small mint leaves.
Optional toppings: cocoa powder, or chia seeds

How to Make
Prepare the pineapple (perhaps the longest process):

cut off top and bottom, then cut off peel from top to bottom.

Remove the thorns (very important!).

My mom had a pineapple corer that she loved – so perhaps you also prefer this utensil!

Cut into quarters.

If you have a Vitamix, you can leave the core, otherwise remove it.

Cut one of the quarters into slices and add to the blender.

Reserve the rest in the fridge.
Peel mandarin and slice in half horizontally.

Remove any seeds.

Add to the blender. If seedless, there is no need to cut in half – just add the segments.
Add banana to blender, broken into pieces.
Clean apple. If organic, leave peel otherwise remove it.

Cut into quarters and remove seeds.

Cut each quarter in half before putting into blender.
Add a cup of water to the blender.

Refill cup and have ready in case needed.
Add the protein powder or roasted nuts. This is completely optional.
Add a little turmeric and ginger (use a microplane or slice small pieces).
Start blender on low speed, and gradually work up to high speed.

Super-charge on high for 30 seconds or so, or until a nice emulsion is formed.
Taste and adjust.

Add apple cider vinegar if it needs a little lift.

(I almost always do but you can also add lemon instead.) Add more ginger and turmeric if it isn't bold enough.

Thin with water if too thick.

Add a few fennel and coriander seeds if you're looking for a bigger flavor boost, or add a little mint instead (but not too much) for a nice refreshing flavor.

Repeat blending process and taste again.
10. Pour into glasses.

Add toppings if you like & serve.
Notes:
(1). The order of adding things is unimportant but water is perhaps the most important thing needed to facilitate the blending. Many recipes add fruit juice instead of water but when you have this much fruit, you've already got your juice!
(2). If the fruits are too sour, but you may need to adjust the sweetness level. I would add a natural, locally-harvested raw honey instead of sugar. Did you know that raw honey when harvested in your local area will help strengthen your immune system (anti-bacterial, anti-viral and anti-fungal) and also reduce pollen allergy symptoms?
(3). Sometimes I'll add Greek yoghurt if I want to thicken it and add a little more protein.