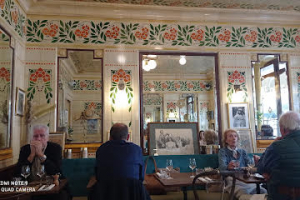 You will step into 1904 when you dine on classic bistro meals lightly updated by Michelin-starred Chef Irwin DURAND of Guy Savoy's La Chiberta. The emphasis is on simplicity and excellence, the finest ingredients simply prepared to highlight their natural flavours.
After our customary coupe de champagne M and I began with a plate of glistening salmon ceviche with avocado and sprinkled pomegranate seeds.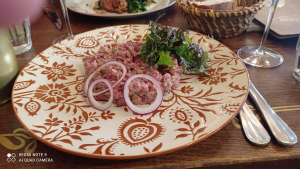 As a main course accompanied by glasses of Chinon M went for a steak tartare that was classically seasoned and mixed with worcestershire, tabasco and capers and served with crunchy allumettes.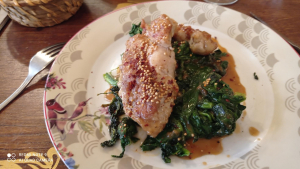 I devoured my ris de veau à la grain moutard on a bed of sautéed spinach that were butter soft and oh so delicious. And once again the dish was not overwhelmed by the mustard gave just a slight hint of its flavour.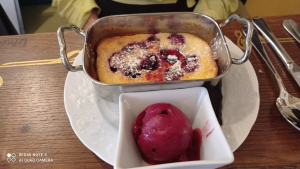 Desserts were next and for M a clafoutis of red fruits and sorbet and for me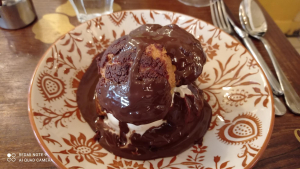 a large profiterole with a hard shell like exterior and soft and oozy interior of vanilla ice cream and chocolate
Don't be deceived by the absence of my customary verbosity–I have guests coming to town next week and I've booked a table for eight!
5 rue Mesnil• Paris 75016
06 22 52 20 58