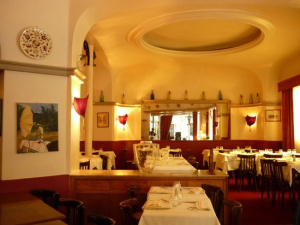 Le Paprika
When the Hungarian revolution of 1956 broke out Czesko-Laslo was eight years old. He and his mother escaped on foot to Austria and from there, on to Paris. He eventually met and married his French-born Polish wife and they opened the original Le Paprika in the 5th. Gypsy music and dancing created a vibrant festive atmosphere and the room was often filled with diplomats and foreign dignitaries.
The current version is near the top of the rue des Martyrs on the fringes of Montmarte and you will be welcomed by their son Matyas. He has inherited the full complement of hospitality genes from his parents and you will be welcomed warmly and effusively, especially if you identify yourself as a friend of Terrance.
M and I had attended a degustation of Hungarian wines there and we promised to return soon for a meal, and what a meal. It was a brisk afternoon three days later and we arrived unannounced, planning to have a small meal, drink some wine and write a review. That idea was immediately scrapped as Matyas arrived and popped the cork on a slightly tart, perky Hungarian sparkler and the 5 hour lunch began accompanied by excellent Hungarian wines.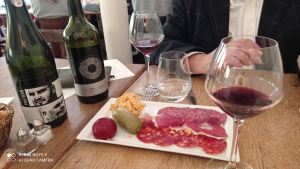 We started with Hungarian charcuterie: thinly sliced ham, salami with a bite, pickled stuffed red pepper and a personal favorite, Liptauer cheese. We drank strong red wines Bikaver Gal et Bikaver Saint Andréa.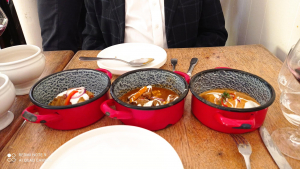 Our main courses were classics of the Hungarian Kitchen: Chicken Paprikash, Stuffed Cabbage and Veal Goulash.Our wines were Syrah Attila Vamos and Obsessio Saint Gaal (Merlot.)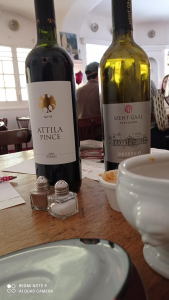 To prepare us for dessert Matyas arrived with eau de vie made from Pears and prunes.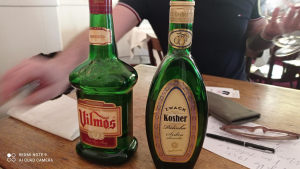 Dessert was flaky strudel with apples and sour cherries–superb.
Since we had been eating like royalty Matyas brought a bottle of Disznokö–The wine of kings and the King of Wines The 2012 vintage was simply délicieux.
If we were not yet completely schnockered Matyas joined us for a digestif Korte Palinka (poire) that M pronounced a pure delight.
My gypsy heart years to return.
Visit the website and reserve a table