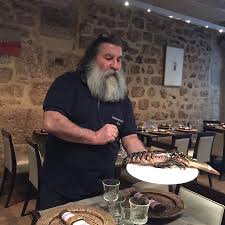 For over thirty years Fulvio and Dominique have been serving Sardinian/Italian cuisine on the rue Poitu, just around the corner from the bustling rue Bretagne and thanks to M I finally discovered it.
Sporting a beard that would make Pére Noel proud and a brioche that suggests that he is been eating at his restaurant day and night, Fulvio welcomes you in a mix of French and Italian, and English when necessary. As in all of these family affairs Dominique works the espresso machine and the cash register.
The 18.50 luncheon menu that features an entrée, plat and 1/4 wine changes daily according to the season.
We began was a surprisingly good Montepulciano, considering the price of the meal. Our starter was jambon, potatoes, mozzarella, tomatoes, spinach frittata and salad. A sizeable portion that would be a complete meal for someone counting calories.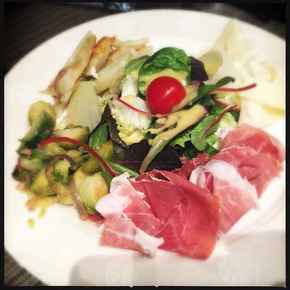 Todays pasta was spinach tortellini in a tomato sauce made from sweet Pugliese cherry tomatoes- another large portion. Fulvio is always open to inspiration and when he saw these tomatoes he opened his wallet. By the time you read this article they may be gone but something equally wonderful will have replaced it.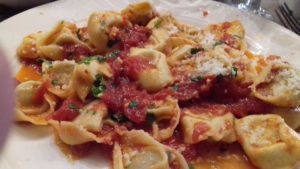 This a review that doesn't need to be embellish with FoodieSpeak descriptions of the ingredients and preparation techniques. A warm, welcoming environment with fresh, tasty food that will have you coming back frequently.
FULVIO • 4 rue de Poitu • Paris 75003
01 42 71 62 80