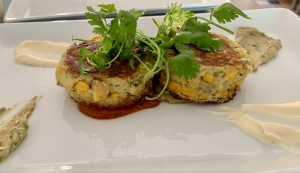 The March Recipes, by Diane ANTHONISSEN
This month I wanted to present a vegetarian menu because although we live in the southwest of France, aka "duck country", Eric and I regularly enjoy meatless meals. For the March menu, I liked the idea of serving a healthy main course (meaning no cream or butter in the dish). The side benefit is it gives us some wiggle room to indulge a bit in the other two courses! The photo of the main course is red snapper but while in France I would instead use "dorade royale" (sea bream), bar de ligne (line caught sea bass) or turbot (flounder). For the entrée (1st course), I wanted a vegetable with some substance because the main course is 'only' fish and rice, without a heavy sauce. Corn and scallion cakes fit the bill! Although it used to be difficult to buy fresh, sweet corn in France during the summer, that has luckily changed. I can buy it fresh, cut it off the ear and stock it in our freezer, making it easily available year round. Corn in France is relatively expensive compared to other vegetables, at about 1,20€/ear, or 8€/kg based on the weight of the kernels removed from the cob. (Just for comparison, the last time I bought fresh corn in Appleton, WI in 2019, it cost a dollar for 4 ears!). I certainly don't mind paying the price here to support local organic farming, with non-GMO corn to boot. One final story on the subject of corn – I recall the odd looks I got 15 years ago when I would ask people where I could find fresh corn in France. I know they thought I was crazy and the usual response was: "what do you mean - corn is for animals" ! Did anyone else have that experience?! I'm glad that is changing. Anyway, moving on to dessert, why not bananes flambées? It's a great excuse to get some fruit in the diet and it tastes much more decadent than it is to prepare. Plus, once you get confident at making this dessert, the "flambée factor" is fun to do in front of guests! Just be sure to announce "flambée" with great drama as it gently ignites to everyone's delight!

The March Wine Pairings, by Eric ANTHONISSEN
Entrée (1st course) – Corn and scallion fritter cakes
Pairing: Château Lagrezette, Merveille de Rocamadour, Viognier Sec, IGP Côtes du Lot, 2018.
Château Lagrezette is a property near Cahors but with parcels further North, near Rocamadour, where they grow Chardonnay and Viognier grapes. This wine has beautiful aromas of white flowers, ripe apricots and peach along with a long finish with toasted notes. This entrée provides several wine choices depending on the other ingredients used besides the corn. Indeed, the corn itself will provide for a sweet flavor that can easily be paired with either a red or a white wine - all we would need is a bit of a contrast between the sweetness and the wine itself. I would recommend a wine you like on its own because it will most likely go well with the corn fritter. Now, when the other ingredients come into play (such as which cheese is added to the corn fritter itself along with which salsa/guacamole/sour cream sauce is served with it), the story changes depending on their intensity, and will force us to take those flavors into consideration. In this case, the two main ones to consider are: spices – present but not "mouth burning" and the "citron confit" (preserved lemon) which provides for a delicate acidity and citrus taste. The full flavored "Merveille de Rocamadour" will stand its ground and provide for a nice pairing here.
Main Course: Fish filet, turmeric rice, Porto reduction
Pairing : Château Belingard, Reserve, 2018, AOC Bergerac Sec, White
A classic recommendation here: a dry white wine from a beautiful property near Bergerac, in Pomport: Château Belingard. Note that "Bergerac Sec" is a specific AOC for dry white wine made mostly with Sauvignon Blanc and Semillon grapes. The Bergerac region also offers several delicious AOC red wines (such as AOC Bergerac, AOC Côtes de Bergerac, AOC Pécharmant etc.), but these will likely be too robust with this main course. The Château Belingard Réserve 2018 white wine has very intense flavors of white fruits with hints of vanilla. The freshness, full ripe fruits flavors, hints of citrus and menthol with an extraordinary (for a white wine) long finish will pair beautifully with the red snapper and turmeric Porto sauce.
The 'Vigneron' (winemaker), Laurent de Bosredon, and his wife Sylvie, are charming people who will gladly welcome you to the property where you will be able to admire one of the most beautiful landscapes of the Bergerac region! The name Belingard comes from 'Beleen gaard', the Garden of the Sun! It goes back to the Celts and some old sacrificial stones are still visible on the property. Wine tastings are always a pleasure at Château Belingard – we've brought groups there who have been enthralled. The people at this vineyard are very nice, the sightseeing is wonderful, the sun is often shining and the wine is excellent, what else do you want?!
Enjoy, Eric