Join me for 7 days and 6 nights in the heart of Le Périgord. We will be welcomed by Diane & Eric Anthoniessen at their Chateau Ladausse for gastronomic, Michelin-starred caliber meals, elegant accommodations, swimming, and of course a river of local wine.
September 1-Dates to be determined
The creator of the Police Chief Bruno novels, Martin Walker, will meet us Le Bugue (Saint-Denis in the books) from where we will visit important sites from the middle ages and WW II followed by a lunch Chez Martin for an over the top wine fueled orgy of food, including eggs laid on demand that morning by Martin's hens, camaraderie and song.
DAY 1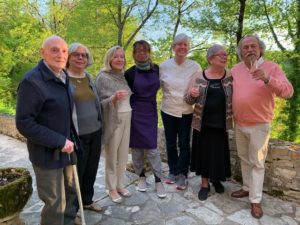 17h06 Arrival at Agen by train, transfer to Ladausse
18h30 Settling into rooms
19h00 Apéro
19h30 Dinner (3-course Welcome Dinner)
DAY 2 Tuesday Martin Walker Day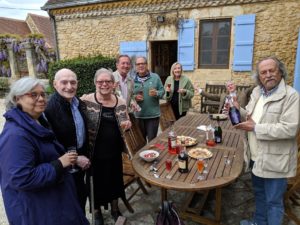 8h00 Breakfast
8h45 Depart Ladausse to Le Bugue
Meet Martin Walker, local visit and lunch Chez Martin
17h Arrival at Chateau Ladausse
19h Light dinner
DAY 3 Wednesday Vallée de la Vézère (Cave art & Troglodyte)
7h00 Breakfast
7h45 Depart Ladausse for arrival around 9:15 am at Rouffignac.
10h00 Visit grotte de Rouffignac.
11h30 Truffle farm, visit and lunch.
14h30 Visit Roque Saint Christophe, troglodyte habitat.
17h30 Arrival at Chateau Ladausse
19h00 Dinner (2-course)
Note: Grotte de Rouffignac opens at 10 am but we need to be there at least 30 minutes before to buy ticket to make sure we are on the 1st visit. After the truffle farm, if time allows, we could swing by Saint Léon-sur-Vézère. Eric is the guide that day.
DAY 4 Thursday Monflanquin & Cooking lesson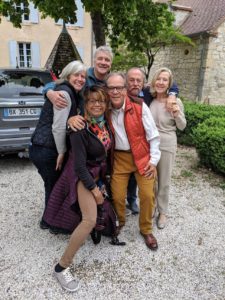 8h15 Breakfast
9h30 Depart to Monflanquin market with Diane.
12h00 Return to Ladausse for lunch & leisurely afternoon
15h30 2-hour cooking lesson.
19h Dinner at Ladausse (3-course)
DAY 5 Friday Duck Farm and Chateau Tiregand Jazz Concert
9h Breakfast
10h30 Depart Ladausse for Monpazier, guided by Eric
12pm Lunch at Ferme Michaumaillé
14h00 Return to Chateau Ladausse
16H00 Depart to Chateau Tiregand. Visit by Eric, tasting.
19h Jazz Concert, diner at the Château Tiregand
23h30 Return to CL.
DAY 6 Saturday Cahors Market & Winery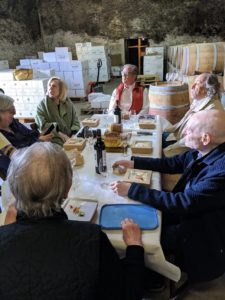 7h45 Breakfast
8h30 Depart Ladausse
10h Pont Valentré
10h30 Bustling Saturday morning market
11h30 Cathédral
13h Restaurant Table de Haute-Serre (2-course lunch)
14h30 Winery visit and lunch
17h30 Return to CL
19h. Dinner (3 course)
DAY 7 Sunday Departure
10h Brunch
Morning Free time
13h30 Departure from Château Ladausse; direct Transfer to the train station
of Agen. Train leaves at 14h52.
*3190/person double occupancy
*3550€/person single occupancy
* May be adjusted post Covid-stay tuned
Cancellation Policy for Château Ladausse, Transportation and Tours :
If cancelled with 90 days or more notice, 50% of your down payment is refunded.
If cancelled with less than less than 90 days' notice, no refund of your down payment is possible.
Limited to six guests-please reserve ASAP
Reservations: Terrance@paris-expat.com
The trip to the Perigord with Terrance was like a dream come true. Eric,the owner of Chateau Ladusse met us at Agen station and we were off. The scenery took my breath away, all shades of green and Lilacs in bloom everywhere. I felt as if my 'Fairy Godmother ' had waved her magic wand and put me into one of the most beautiful rooms. my view of the grounds was spectacular. The wine and food presented by Eric and Diane was beyond Michelin stars. Then came the next highlight -- meeting the celebrated author Martin Walker. We were invited to his home for a grand lunch prepared by his wife. Martin's Bruno,chief of Police series has been most successful. Even the wine he produces carries the Bruno label. Needless to say,the wining and dining with exclusive company was over the top. By all means,this is an adventure not to be missed!
Angela Bellante, Petaluma, CA
We want to thank you again for the incredible week we just spent with you in the Perigord. From reading about previous trips, we knew it would be interesting, but we had no idea just how interesting. From meeting Martin Walker, touring with him, and then having lunch with him at his home, to touring caves, troglodyte villages, wineries, and a duck farm, it was all fascinating. Eric, Sandra and you were all charming guides wherever we went.
But, the piece de resistance was returning to Chateau Ladausse, or as we all called it - home - at the end of a long day. We were always welcomed back by Diane, who had spent the day preparing her glorious dinners. We were always able to rest for a bit, and then the miracles began to appear. Meeting in the salon each evening for some wine and Diane's delicious hors d'oeuvres was the start of the daily adventure. Then followed exquisite dinners which were equal to any four star restaurant! Ending, of course with extraordinary desserts. Not only was everything Diane prepared delicious, but beautifully arranged. Each plate was a work of art! Every meal was accompanied by wines chosen by Eric, who then explained why the particular wine worked with the food we were eating. Eric and Diane are perfect hosts who made us all feel welcome in their home.
You, Terrance, and Monica were great traveling companions who truly cared about all
of us. We were so fortunate that our little group got along so well. Thank you once more for all the work and careful planning that went into making our week so wonderful!
Fondly,
Anne and Alan, Hudson Valley, NY
Our recent trip into the Perigord was fantastic. To begin with, Chateau Ladausse was a great place to stay: the rooms were everything one could hope for, Diane's meals were over the top, and Eric was a great guide. Lunch with Martin Walker after his tour around Le Buge was the hi light—he was a gracious host, and the lunch itself in his dining room was truly memorable, full of lively conversation, with food reflected all the wonderful things one hopes for in the region. Martin's wife Julia was equally interesting and charming, and a tremendous cook to boot. It was a treat to meet her, and Martin's friend Raymond as well—a real character. Our tour of Cahors, the lunch at Chateau Mercues, and the walk around Chateau Biron added even more interest to an altogether wonderful experience in Perigoridian history and gastronomy. Thanks for putting together a sojourn we won't soon forget.'
Gil and Patsy Diekmann, Tiburon, CA
'This was our second trip and it was a delight. Chateau Ladausse is a wonderful place and Diane and Eric make the experience very special. Martin Walker and his wife Julia were also superb hosts. They welcomed us with delicious food, conversation, wine and hospitality! Altogether , a terrific time in Le Périgord.'
Berry Stafford & Pat Holt, San Francisco