So, You are tired of eating and drinking and drinking in Lyon, the cradle of French gastronomy! Not to worry, you are just a twenty minute train ride to Villefranche-sur Saone, home of the Musée Paul-Dini.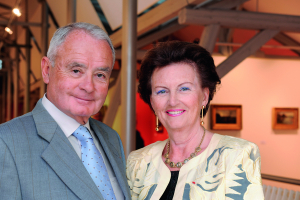 Launched by a generous contribution from Paul and Miguette DINI, it houses a collection of art by artists from the regions of the Auvergne and Rhone-Alps.
Here is a sampling of the artists and their work: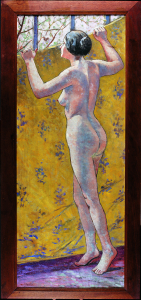 Nu de dos regardant dehors vers 1912
Georgette AGUTTE
Agutte was the only woman to attend the École nationale supérieure des Beaux-Arts. She was a member of the Fauvist movement and a sculptor.
The artist at work.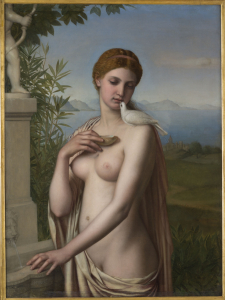 Venus à la colombe 1896
Jean-Baptiste PONCET
Jean-Baptiste Poncet studied painting with Joseph Soumy with whom he copied the masters at the Louvre in Paris in 1864, then with Hippolyte Flandrin , whom he assisted in the realization of the frescoes of the Saint-Martin basilica. Ainay , the church of Saint-Vincent-de-Paul in Paris and the abbey of Saint-Germain-des-Prés.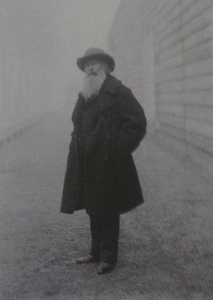 The artist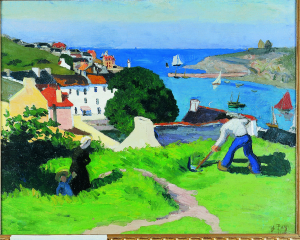 Le port de Souzon, Jean PUY
Jean Puy was a French painter and member of the Fauvist movement. Working alongside artists such as Henri Matisse and André Derain, Puy developed a bright palette based on the emotional interpretation of world instead of observed reality.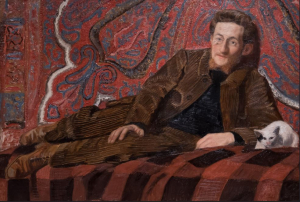 Jules Migonney, Portrait de Jean Puy (vers 1910),
musée municipal de Bourg-en-Bresse.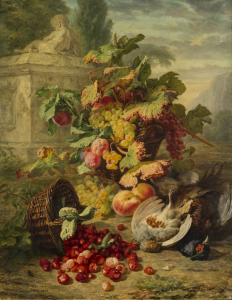 Repas de chasse-Simon Saint-Jean 1836
Born in Lyon in 1808 Saint-Jean studied drawing with Pierre Révoil and Augustin Alexandre Thierriat the École de beaux-arts de Lyon. He won several contests for flower painting and was awarded a gold medal in 1826. After finishing school, he found a position in the silk design workshop of François Lepage [fr]. In 1834, he had his first showing at the Salon and was awarded a second-class medal.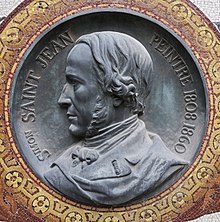 Simon SAINT-JEAN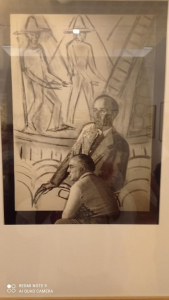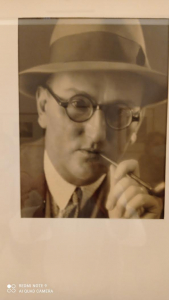 Two by BLANC et DEMILLY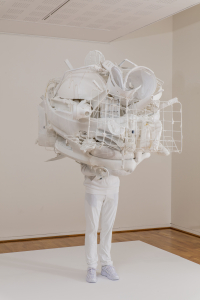 Monochrome 2020 Daniel Firman
With his eye-popping sculptures, Daniel Firman freezes moments of time and action in precarious balance. Nasutamanus epitomises the concerns and methods of his practice; it is a taxidermied elephant that seems to float weightlessly in the gallery space, attached only to the wall by its trunk. In this as in all of his works, Firman seeks to construct the presence of such amorphous concepts as time, balance, weight, action, and gravity. Other sculptures include human figures struck in precarious poses or supporting unwieldy constructions atop their shoulders. 'I demand much effort of my models in order that they remain immobile until they are exhausted, and it is with this approach to time that I create sculpture,' he says. Always focused on the body, Firman has also explored performance art—including choreographed works in which he constructs enclosures around himself—and crafted immersive, overwhelming sound installations of Drone Music.-OCULA
The Artist
2 place Faubert
Villefranche-sur-Saone
04 7468-3370
Musee