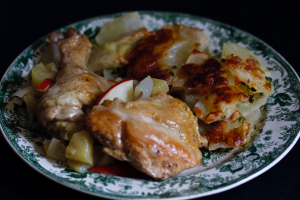 'Of course it's not Provençal cuisine, but the children loved it; all I had to do was to prepare and assemble the apples and chicken, and set the oven to go off half an hour later, and I was free to go sailing'.-Lulu
1 fryer
Salt & Pepper
4 tbsp. butter
2 pounds russet apples
cinnamon
4 tbsp. Calvados
Preheat the oven to 190C/375F
Season the chicken pieces on all sides with salt and pepper. In a heavy sauté pan of a size just to contain the chicken pieces, placed side by side, heat half the butter until it begins to bubble. Arrange the chicken in the pan and sauté over moderate heat, turning the pieces until lightly coloured on all sides.
Meanwhile, melt the remaining butter in a large frying pan, add the apples and toss regularly over medium heat until they are softened and lightly caramelized on all sides. Sprinkle with cinnamon and toss again.
Layer half the apples in a deep oven dish, place the chicken pieces on top, and spread the remaining apples over the chicken. Discard the fat from the sauté pan, pour in the Calvados, place over high heat and deglaze the sauté pan,, scraping the bottom repeatedly with a wooden spoon until all the caramelized adherences are dissolved. If the Calvados has not begun to flame , set it alight and pour it regularly over the surface of the apples.
Place the oven dish over medium heat for a few minutes, or until the characteristic scent of caramel fills the air, cover the dish and bake for 30 minutes. Turn off the oven and serve 15 minutes later.
This is the kind of dish that smart real estate agents prepare for open houses.