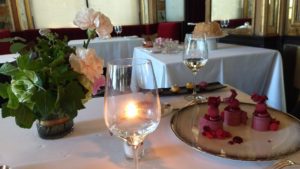 Some things don't change and le déjeuner (115 euros) at the 2-star Le Grand Véfour in the Palais Royal remains, in my humble opinion, in terms of rapport qualité-prix, the best value in Paris.
Opened in 1784, it has been a destination for writers, artists and politicians, including regulars like Victor Hugo, Jean Cocteau, Colette, and Napolón and Josephine. Colette lived in a second floor apartment in the Palais Royal and had her own table where she lunched daily until the day came when she could no longer afford it. She sent her niece to inform the owner that he could liberate her table and he responded: " As long as madame is alive the table is hers and she will dine free."
It was anniversary time, my birthday and a belated 10th anniversary lunch with M and remembering our last visit here we knew it would be a special event.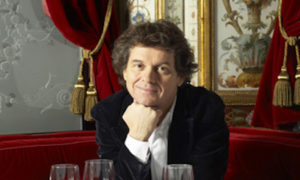 We were greeted by Chef Guy Martin and chatted before being escorted to our table that once belonged to Jean Cocteau for a champagne rosé from Moet & Chandon.
Several amuse-bouches preceded our first course, a duck foie gras terrine, radishes and rhubarb enhanced with black pepper. A generous serving accompanied by toast points.
As we moved on to our main courses we chose a 2018 Mercurey that worked for both of our selections. M opted for shad cooked in its skin, crushed zucchini with star anise with ginger, sesame emulsion. No dainty filet here but a sizeable portion. I upheld the honour of carnivores and tucked into a pan fried duckling filet, served as three medallions with acidulated cucumber and a hint of Sechuan pepper. And off to the side, silky-smooth potato purée with truffle oil, a tip of the chapeau to Chef Martin's mom.
When I saw the cheese chariot approach I instinctively let out a notch on my belt. Our custom is to sample cheeses that we don't normally find at our local fromagerie and there were several choices from Chef Martin's native Savoie. A second glass of Mercurey was in order.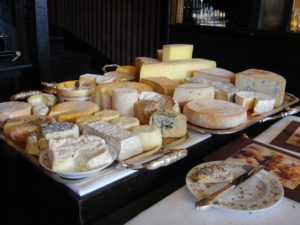 After a slight pause we were ready for dessert and wow. Coconut whipped egg whites, mango and passion fruits, coriander leaves and coconut ice cream for madame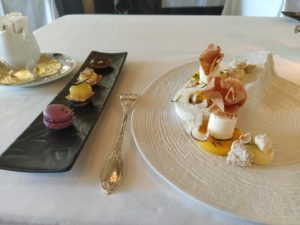 and for moi, raspberries with mint including raspberry sherbet-tangy and refreshing.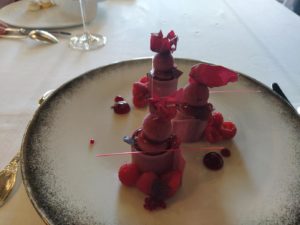 All that was left to round out this delightful three hour lunch was coffee and a glass of 20 year-old Calvados.
17 Rue de Beaujolais, 75001
01-42 96 56 27