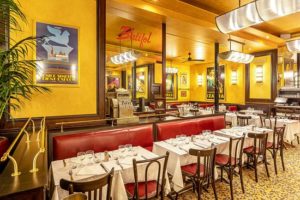 Located in front of the Gare de l'Est, Batifol had been a fixture for travelers and locals for generations. Recently purchased and refurbished by Groupe Joulie it is once again serving hearty, satisfying reasonably-priced meals.
We were greeted by director Pascal Burton and escorted to the kitchen where Chef Denis Levy took a break from his preparations to counsel me on the day's menu. A native of the Sologne his professional resume includes the 3 star Taillevent when M Vriniat was still alive.
To open our taste buds Pascal served us a spicy Gewurtztraminer. Following Denis' suggestions M had ceviché de maquereaux that burst with flavor and having missed breakfast I carved two slabs of paté de campagne from the serving terrine.
Next up for M was a generous serving of cod with haricot verts accompanied by a chardonnay from the Pay d'Oc and for me the signature Pot-au-Feu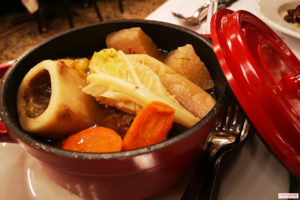 with a Cotes du Rhone Reserve from PERRIN .
Dessert was nothing fancy but very good. An ile flottant for M and a tarte aux pommes for moi.
With entrées from 5-9 euros and main courses 13-19.50 you will fill up without emptying your wallet.
Batifol 5 rue du Mai 75010
01 42 05 20 02