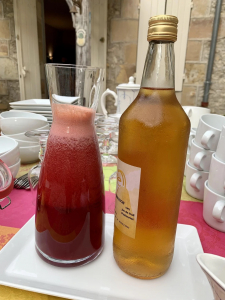 Freshly centrifuged juices are delightful - they make breakfast more interesting, and add a fun twist to cocktails. No matter when or how served, fresh juices are just delicious. And we can't overlook the fact they are super healthy thanks to all the natural fruits and vegetables used – with no additives, no preservatives, or no coloring agents. Having the right equipment makes any job faster and easier, and the right centrifuge increases the chance that juicing will become a habit and not a special event labor of love. My favorite model so far is the Riviera & Bar model PR776A7. I have no vested interest or personal gain in sharing a brand name, other than trying to help others understand which model works well at the Château Ladausse kitchen. (I'm sure there are others out there that do the job well.) Eric, being the consummate engineer, has even given his stamp of approval for the technical design of this machine. Separating the fibers from the juice can be tough business, so a sturdy machine is important. Yes, centrifuging does "waste" the fibers as they are usually thrown out or composted. In our household, however, even the fibers get used in bread making, so in fact, it's not wasted with us. Anyone that wants to keep the fibers with the juice should use a Vitamix type of machine to purée it all together, which would turn it rather into a smoothie instead of a juice. Although this recipe with the centrifuge results in a deep purple color thanks to the beets, the flavor of beet is, at first sip, less pronounced than you would expect. It's a nice surprise! The apple juice and other ingredients help keep the beet level under control (not that there's anything wrong with strong beet flavor, but it's not intended in this recipe). After the juice is made, it will have a light separation and some foam that is created – stir or shake well before serving.
Ingredients – for 1 liter
1 medium to large beet
1 orange
A large handful of pitted cherries (about 1 cup, if I were to guess)
1 kiwi
1 carrot
6 apples, Pink Kiss are nice
Ginger, small knob
Water, maybe about ¼ cup (optional)
Prepare ingredients:

Rinse all ingredients under cold water.
Peel beet, orange, kiwi, and carrot.

Core apples. Cut everything into portions that fit into your machine or use whole if possible.

Peel ginger (optional if organic).
Centrifuge it all, following your machine's instructions.

I start with the carrot, then beets/ginger, and then the rest of the ingredients which are softer in texture and easier to get through the machine.

Stir to mix well; hold in fridge until ready to serve.